Well, after a much needed break I have come back from a trip to Hong Kong! I seem to do this once every few years it seems but this time was much more subdued than before. Still, it didn't stop me from getting loot! It's just not as much as before!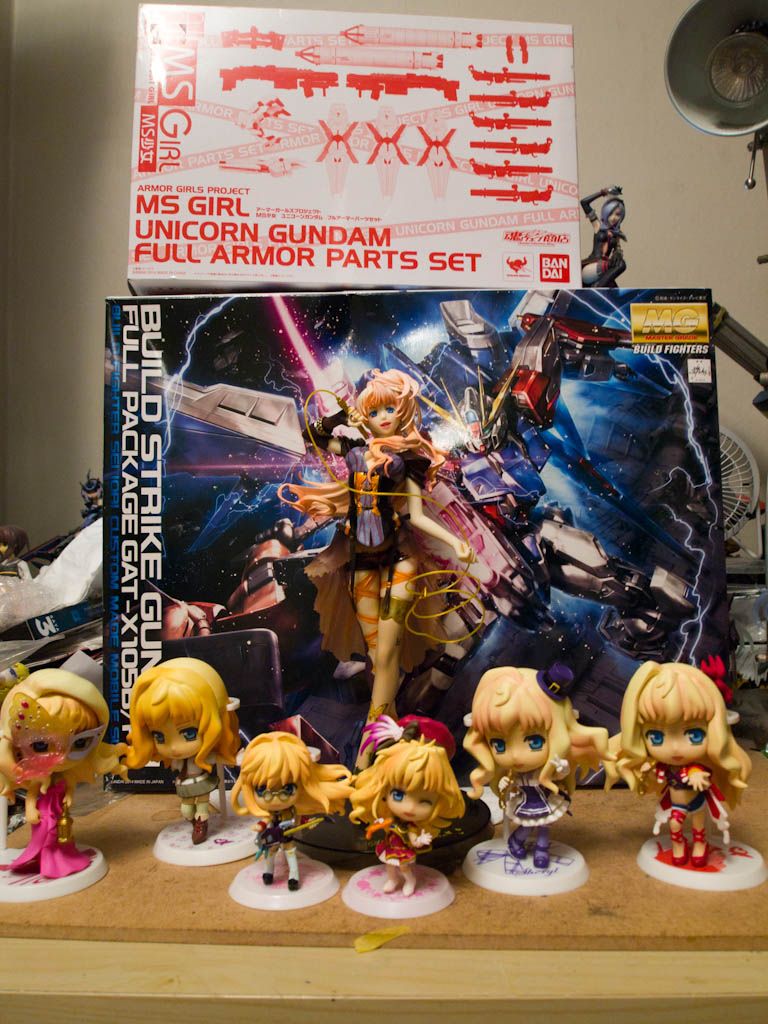 And here is the bulk of it! What can I say? You can never have too much Sheryl Nome! Also, I remembered to actually buy a gunpla while I was over there! Last time, I forgot and I was really kicking myself for forgetting. Previously, I had ALWAYS returned with at least 1 gunpla kit. Sometimes, it was a couple of MG kits, other times it was a PG kit (like when I bought the PG GP-01 and had to post it back due to its size!) I wanted more but due to luggage constraints, I was only able to purchase 1 and I settled on the Build Strike Gundam from Gundam Build Fighters. And despite the smaller size of items, I really didn't have any space left in my luggage to bring anything else back (tho I probably would have liked to try to bring back a HGBF burning and winning gundam despite my preference towards 1/100 scale or taller). There were also a few figures which I would have loved to have bought but had absolutely no way of getting them back home, like the Alter Kazuno from Kyoukai Senjou no Horizon! The various Sheryl figures were acquired by walking around the various small stores around Mong Kok and Wan Chai. I was very fortunate to have been able to see Q from Daybreaks Bell again and had a great time while walking with him, checking out the various stores!
As for the MS Unicorn Girl extra parts, I was actually rather uninterested when they first came up for pre-order but when I saw it at one of the Animate shops in HK, I caved. I haven't actually bothered to take the parts out of the box and onto the MS girl yet but I'm sure I'll do it soon. It's also likely that the Build Strike will be my next project as I need to get back into the groove before I tackle the Neo Zeong and PG unicorn later!