Well, this is a little awkward… A while back, I was contacted by an acquaintance whom I met before at MCM expo via twitter and was asked if I was interested in doing a GK for him. Normally, I'd pass but because he was someone I knew and I didn't have any reason to reject it outright, things kinda spiraled until he handed me two kits at the last MCM expo to build… and they're both KanKolle kits…
Normally, I wouldn't touch KanKolle kits with a 50ft pole but I guess that's one of the lures of doing commissions. You may end up doing kits of series which you otherwise would not do. In any case, after procrastinating for a while (and losing myself in Tales of Zestiria and Onechanbara Z2: Chaos), I finally cracked open one of the kits to do a parts check and basic cleanup of the major bits.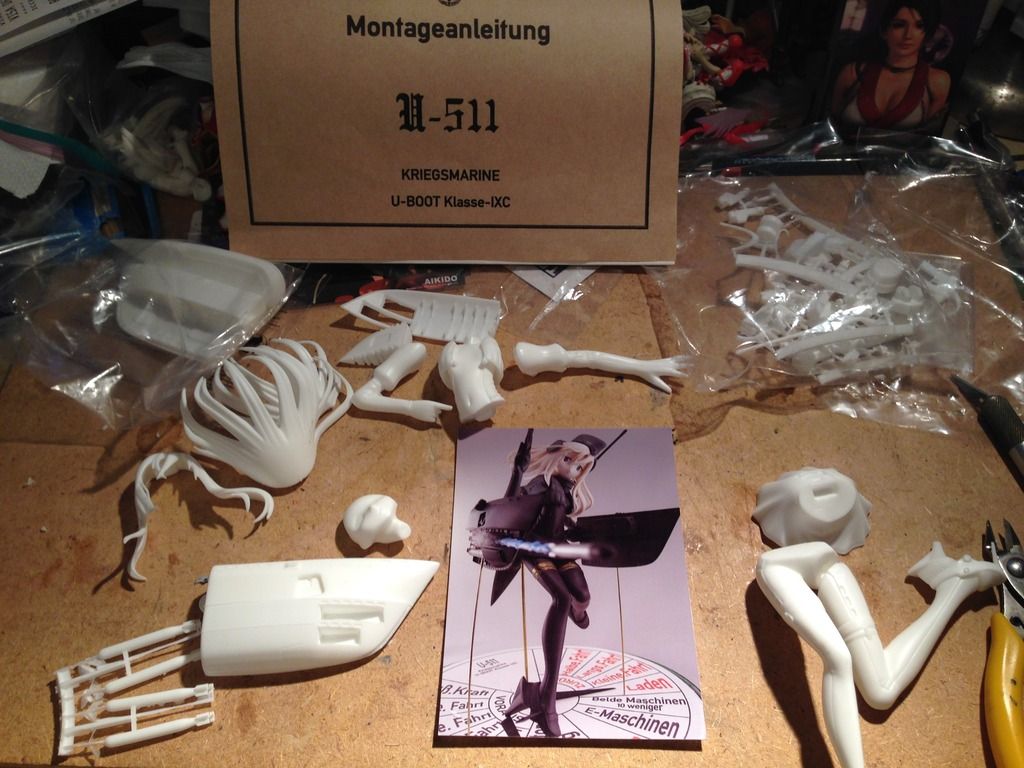 Not being a fan of KanKolle makes my knowledge of the character very limited but she would be based off the german U-boats. Until now, I had only known about Bismark and Prinz Eugen being in the game but I guess I shouldn't be surprised that there are others. I have to admit that I'm very surprised at the parts quality (at least on first look) of this kit. Everything looks really well made and the fits are spot on so, with any luck, this shouldn't encounter many hiccups.
One thing I did notice was that the pic of the completed kit shows an effect part showing a torpedo launching from the U-Boat. That's missing from the rest of the parts as far as I can tell so I guess the maker expects you to do it yourself. Not sure if I'll go that far as, since it's not my own kit, I'm not comfortable with experimenting with possible solutions, in case it all goes to pot. No reason to make the kit worse if I can help it, right? The actual ship parts are also shown to be rather complex with quite a lot of inner detail which, for the most part, won't actually be seen once the kit is completed on account of them all being covered…
Naturally, Fate has been put aside for now though I will still work on her in passing when there's overlap between her and this kit but as far as modelling goes, this U-Boat will be my main project for a while. I wonder how long this one will take to build…