Did ya miss me?
Well, who cares about that? For those who are curious, the reason for the lack of updates for the past few weeks was because I was in Hong Kong. TBH, it wasn't a great trip. I did manage to have some fun times but there was also a fair bit of bad stuff which I won't get into. But in keeping with the good stuff, one can't go half way around the world and not return with some loot, right? Damn straight!! And I really went a little crazy with the lootage!
I was also able to meet Q from Daybreak's bell and a few other comrades like Coffeebugg and Adun50, who just happened to be there at the same time I was. We spent an evening checking out some of the local anime merchandise shops and had a meal and impromptu photoshoot at a maid cafe (damn things creep me out!!). I'll write up some of it in a later post but this one will be focusing on just the loot I brought back. What loot? This stuff…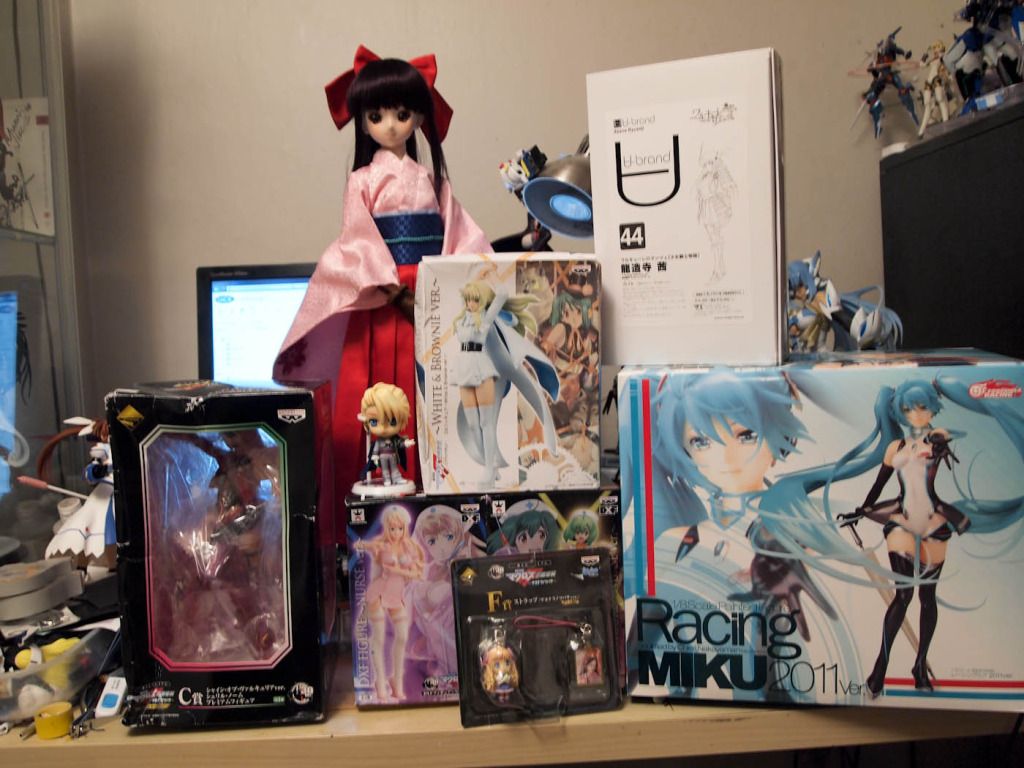 Admittedly, the Racing Miku and Volks GK on the right weren't bought from Hong Kong but were rather sent over while I was away so I picked them up from the post office when I got back! And yes, there's a lot of Sheryl Nome in there and yes, that is a Dollfie Dream Shinguji Sakura in the back. I had managed to avoid dollfies for a while now but it was only a matter of time before they smack me in the gut with a character I really like and break my formidable defences (and then they proceeded to do it twice just for fun with the DD KOS-MOS!) orz
Racing Miku 2011 currently has the honour of being pretty much the only Miku design I actually like and one of only 2 Miku figures I own. The other is the GK by Kiking and, while I like the design and look of the kit, I'm not so hot on "the world is mine" Miku design. But I do like the racing 2011 look!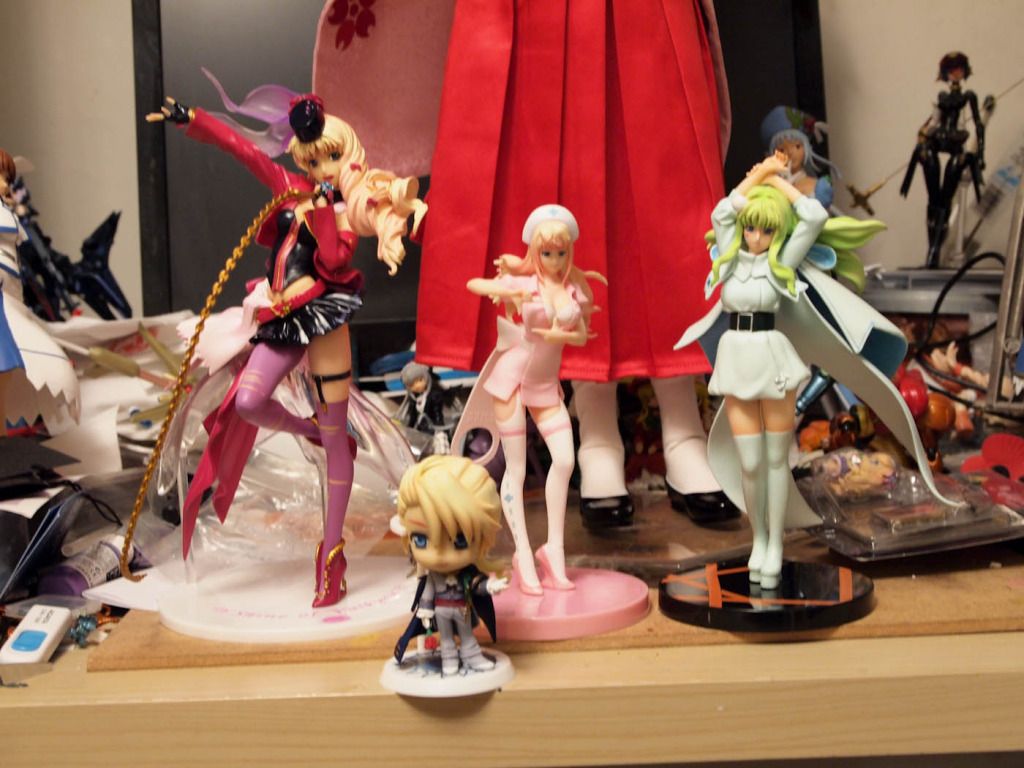 Here are the Sheryl figures out of their boxes. I also saw an ichiban kuji Flagbearer Sheryl figure but the store was closed when I saw her and I totally forgot where the shop was when I returned later. Dammit all to hell!!!
And for those curious, this is the current state of the "Sheryl Army." Someday, I will track down my missing ichiban kuji figures. I actually saw one of the Kimono Sheryl figures too while I was in HK but didn't buy it because it was blatantly a bootleg!! Asking price was way too low!!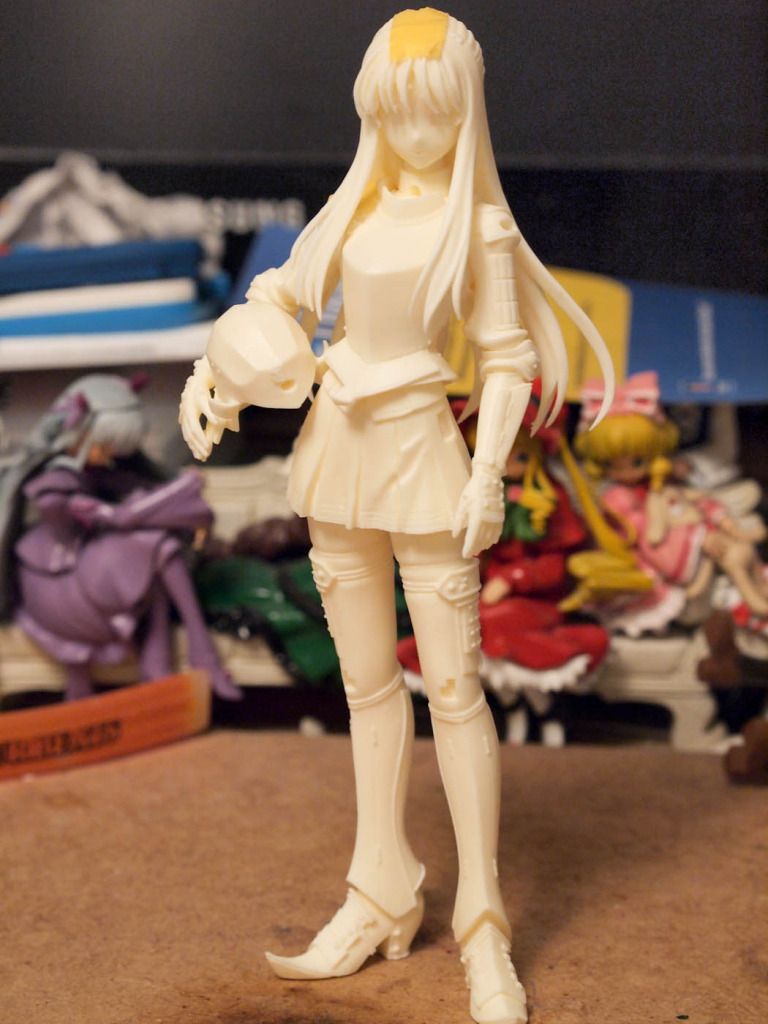 The volks kit was of Ryozoji Akane, one of the ladies from the eroge Walkure Romanze (yes, that's how they spell it!). There have been 5 kits from the game so far but only Cecilia Kumani Aintree interested me until Akane showed up painted at recent figure events. It's been a while since I've seen a kit which made me think "I want this! To hell with price!!" Normally, if I desire a kit, I still weigh it up with pros and cons as well as other kits before committing to purchase but Akane went straight up to the top, even above the 1/4 T-ELOS, which I have also bought. Sadly, that meant that Alicia Melchiotte got pushed out but I hope to acquire her in the future without too much of a markup.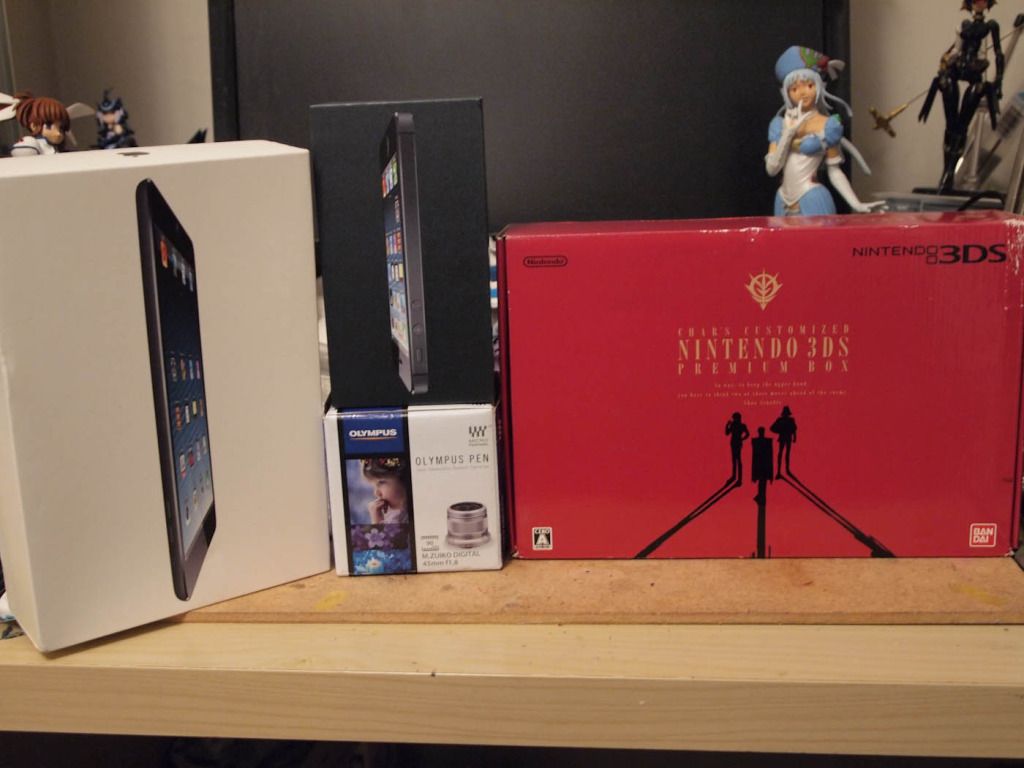 But figures were not the only thing I got while over in Hong Kong. In fact, it was only a small portion of stuff! The bulk of my spending money went on the gadgets (like always!. Not picured above is the metallic blue PS Vita I bought to match my PSP and the NAS box which I took home and is currently humming away in the corner, doing its thing! The lens is a zoom lens for my Olympus Pen EPL-1 and should prove useful when taking portrait shots of figures in my lightbox in the future. I've already done a few test shots. It's way more specialised than the standard 14-42mm lens I've been using thus far but I look forward to playing around with it.
Here's a test shot of Sakura holding up nendo Sakura! Still need to work out the kinks but it handles minor shakes way better than my old lens. The DD Shinguji Sakura was purchased via Dollfie World, a small shop in HK which specialises in Japanese dolls like the Volks dolls and the Yamato line. I went through them instead of going through the lottery and Natalie (the owner) was very helpful and guaranteed the order, though I did ask her to send a photo of the doll before I completed payment after putting down a deposit. I was able to pick her up after paying off the final sum and she made her official debut at the meet which happened the next day!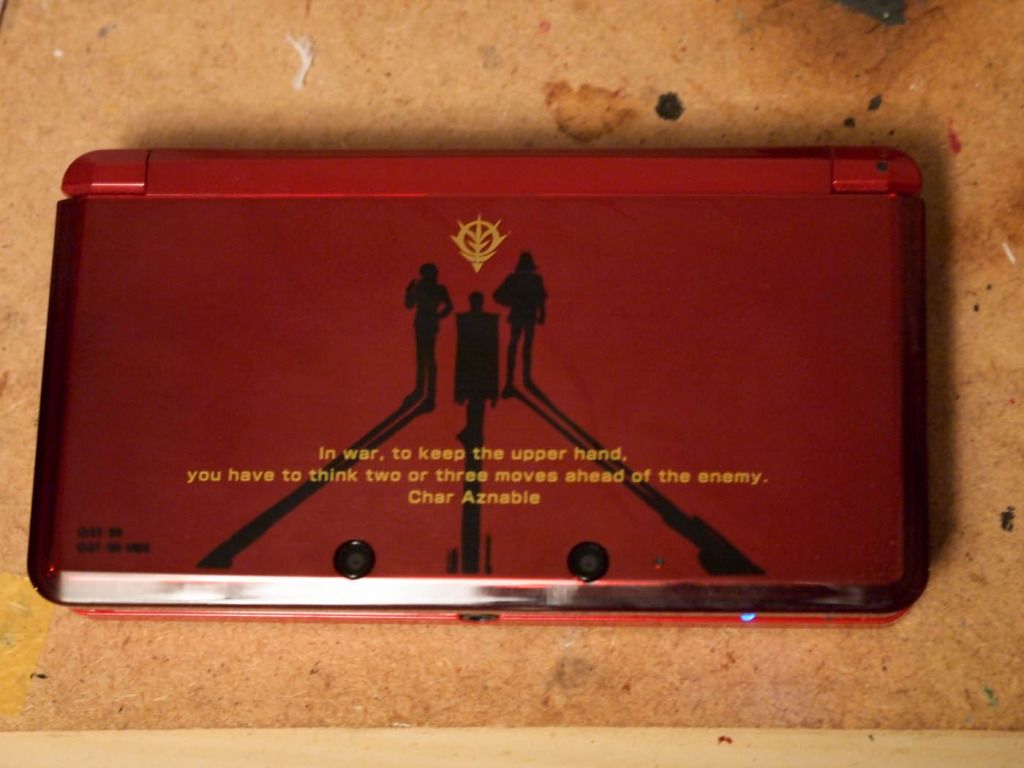 And the new lens was also pretty good at taking a pic of the ltd edition Char 3DS I bought! And I bought it for just 1 game!! Damn Nintendo and their region locking of the 3DS.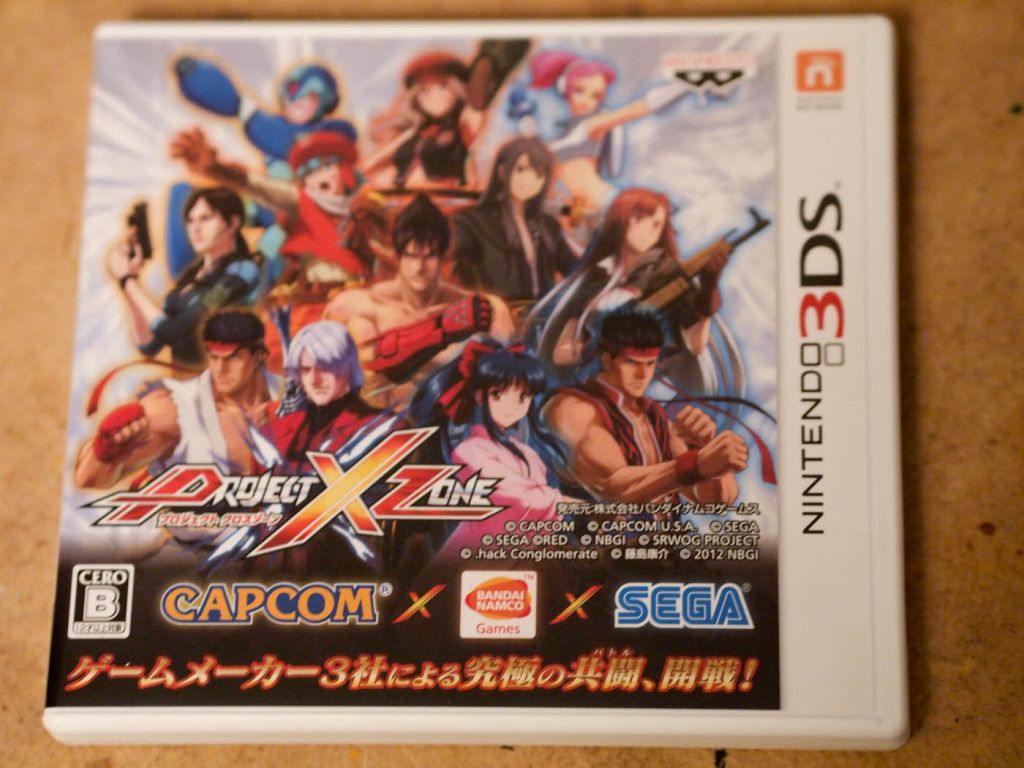 And here's the game I got the system for! Hint: It's quite good!! I'll see if I can proceed far enough into the game to write a fair review soon.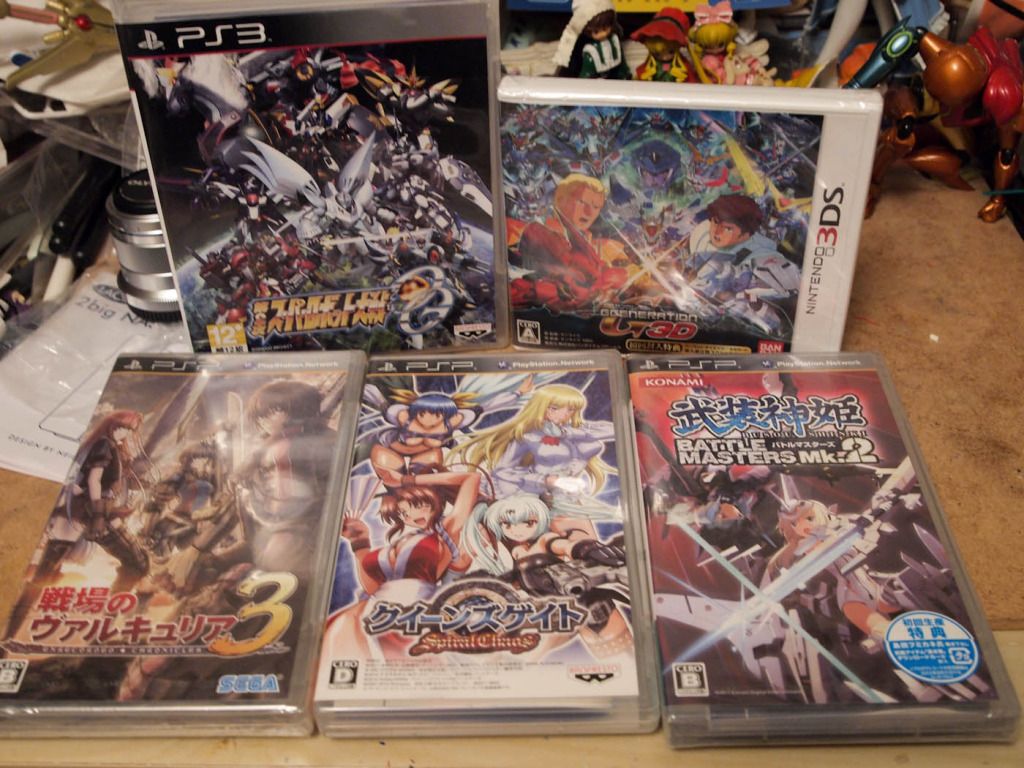 And here are the other games I picked up along the way. It's a bit of a shame but since video games are becoming more international, it's become much harder to find unique and interesting games which aren't available in the west. Many of the PS3 games were ones you can easily get in a local shop here. Super Robot wars OG 2 is an exception and, when I discovered that its release date coincided with my trip, there was no way I was leaving Hong Kong without a copy!! I was lucky and managed to track down a copy of Valkyria Chronicles 3 as well. The SD gundam game was with my 3DS but I've never been a huge fan of the series as it's pretty impenetrable compared to SRW while Queens Gate was a 2nd hand copy I stumbled across. It's rather fun but the map design is incredibly frustrating as everything is depicted in 2D but you cannot move through certain areas, which means that you can end up being forced to funnel your units through a narrow corridor which severely limits your ability to attack and leaves you massively vulnerable. Busou Shinki was pretty much just a curio.
And that's about it for the loot from my trip. I'm still tired from the travelling since I had to go to work the next day after landing in the early evening but at least I'm not jetlagged. Next time, I'll gather up the photos of the maid cafe and little HK shops I visited with everyone.
Many thanks to the guys (Adun50, Coffeebugg and Q) for making the meet a lot of fun. I needed that!