Wow, has it already been 12 months? This time last year some friends and I went to the Royal Albert Hall and were treated to a wonderful evening of music courtesy of the royal philharmonic orchestra as part of the first show of distant worlds in the UK! Back then, the concert opened with the conductor, Arnie Roth, mentioning that they would be returning in 2012 as part of the 25th anniversary celebration of the series.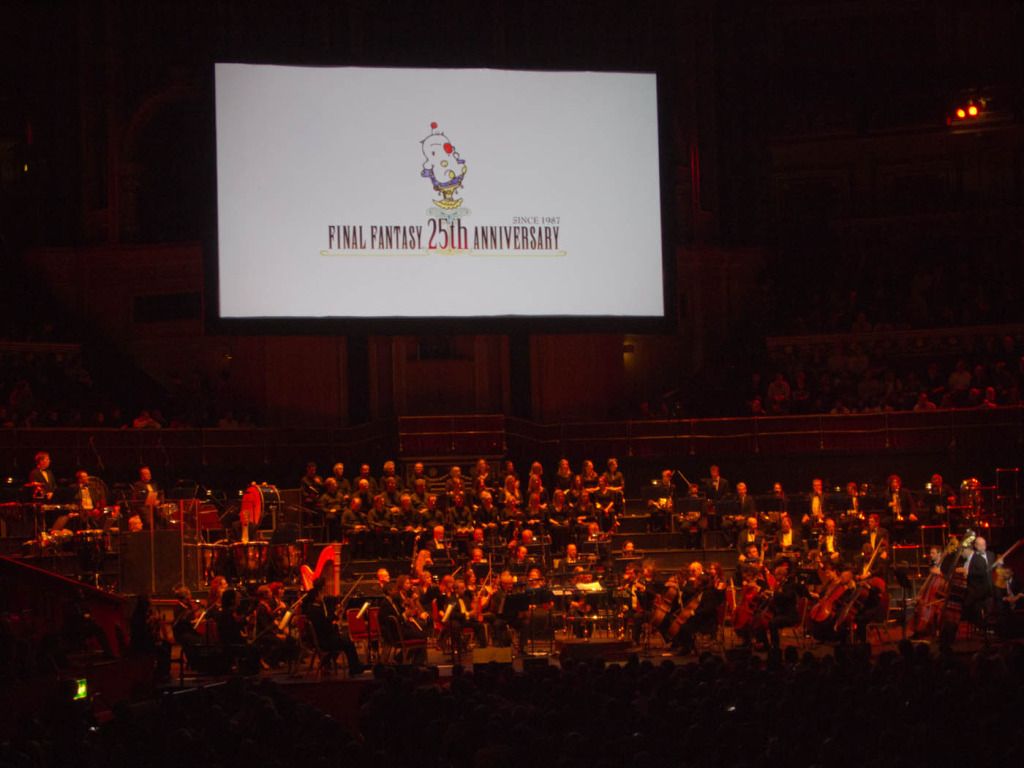 No prizes for guessing where we all went last weekend!!
And so, once again we were treated to some wonderful music from the 25 year history of one of our most beloved game series. This show was quite considerably different from last year as they premiered quite a few new scores and picked a piece from each of the games and played them chronologically.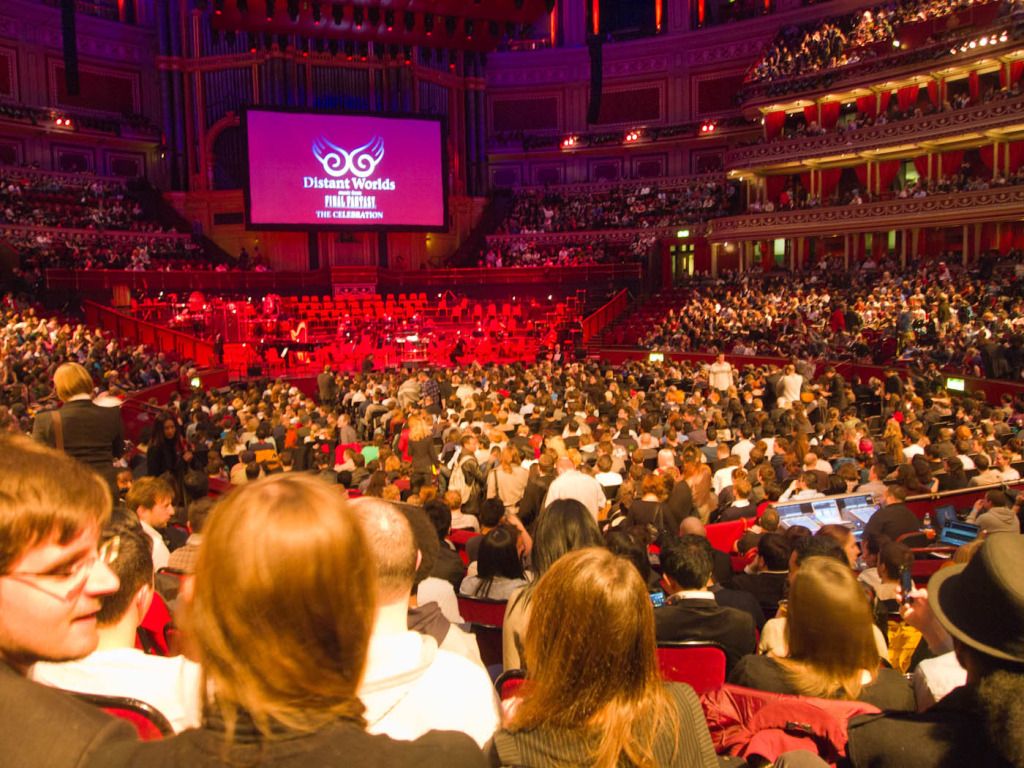 This was where I was seated this time around. Sadly, I was unable to acquire VIP tickets for the second year running (the phone lines were so busy on the day that it actually crashed and I got disconnected!!) but the regular stall tickets were pretty decent and, as luck would have it, I was still mere rows away from where Uematsu Nobuo, Hamauzu Masashi and super surprise guest Hironobu Sakaguchi sat for the duration of the concert!!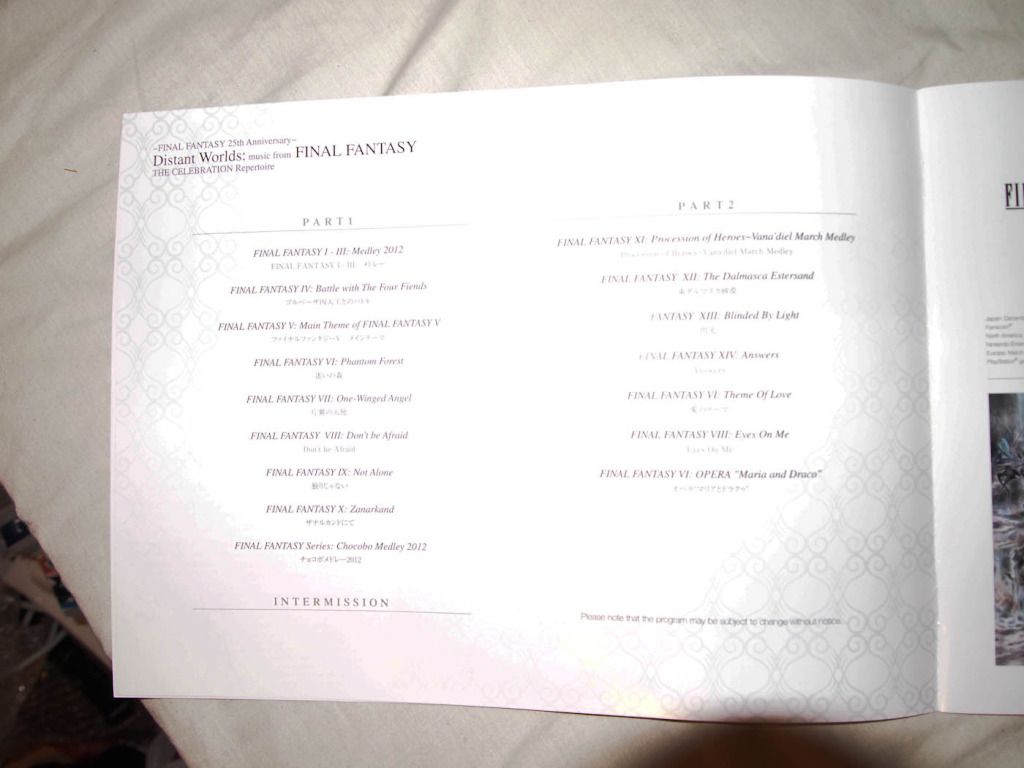 And here was the setlist for the evening. The pieces for Final Fantasy V and VI were all new and the chocobo medley was also new. We were also treated to an extended version of the "Draco and Maria" opera which continued to the end of the piece instead of stopping rather abruptly like in the game! For the Encore, we had a new piece which was called the battle Medley and contained battle music from Final Fantasy I, X and VII in that order. The FFX music was "battle with Seymour" and FFVII was "those who fight." The FFVII part was notable because it was the first time (as far as I know) the piece was played with a full orchestra. It has been part of the rep list for some time but until now, it has been a piano solo piece. Here's hoping it gets worked into a full orchestral score!!
There were other points of note throughout the evening as well. Arnie Roth tried to get the audience involved during "one winged angel" by asking them to sing the 3 notes for Se-phi-roth but I don't think that was very successful… The audience seemed rather quiet at the points they were meant to join in…
Overall, I have to say that the concert this time around was somewhat weaker than the 2011 show. Part of it stems from the fact that it is the 25th anniversary and so, they had to make it a celebration of the entire series instead of being able to cherry pick pieces from all the games. Last year was very FFVIII-centric but each game was given a chance to try to shine in this one. But that led to some difficult omissions. While I did enjoy the premier of "Phantom Forest" from FFVI, it was not as strong as other tracks from the game. The omission of Terra's theme was especially hard! And I must admit that I am not a fan of "One winged Angel." It may be iconic but I much prefer "those who fight", "JENOVA" or "Aeris' Theme" over what was chosen. "Don't be afraid" was a nice choice for FFVIII but I was actually hoping for "man with the Machine gun." The "Chocobo Medley" as well, felt a little… off. Personally, I felt that it lacked the fun feeling of the original but it was technically more accomplished in its new arrangement and there were parts where it was obvious that it was to show that the performers were also able to have a little fun with it as well but the tempo and sound of the medley wasn't as "warm"
It may sound like a load of complaints but it didn't stop the concert from being very enjoyable. If it was my first Distant Worlds Concert, I'm sure I would have loved every second but since I had something to compare it with, it just couldn't match up with the greatness of the 2011 concert. Nevertheless, if they announce another London concert next year, you can bet that I'll try my best to acquire tickets to see them again.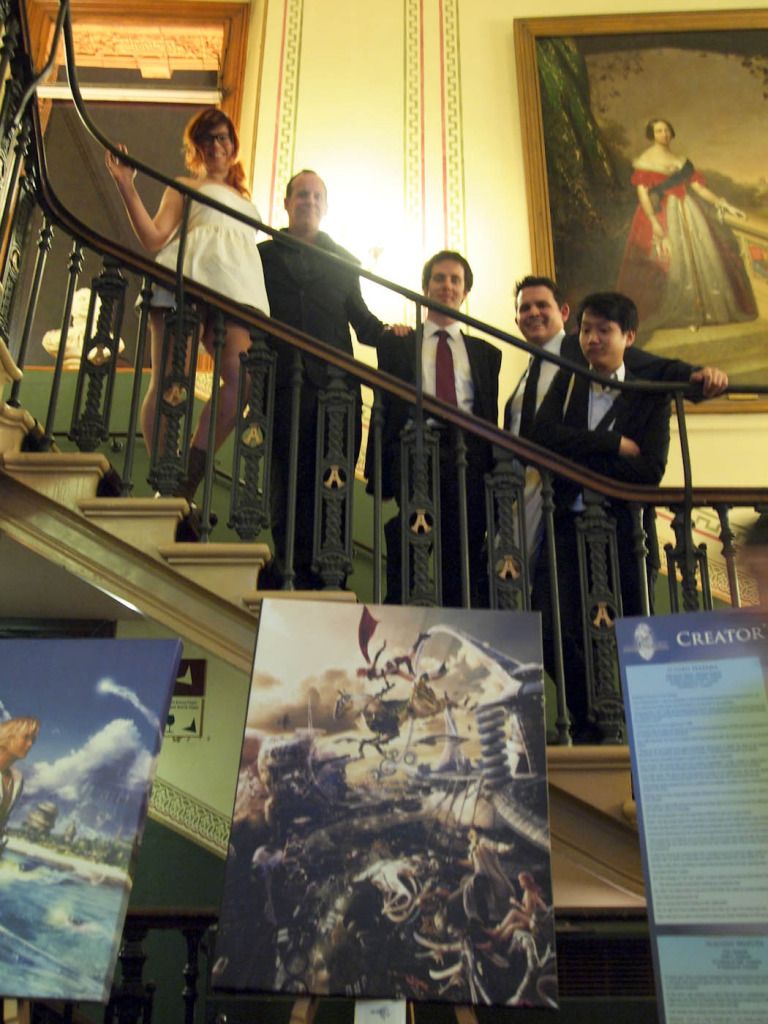 And here's a photo of all the destructoid community members who managed to hold out until the end. A couple had to dash off in order to get home but these guys managed to stay for a while longer!
I wonder when Distant Worlds will perform in London again. I'm pretty sure it's a matter of when rather than if!!