Hard to believe that this blog has now been running for a full five years now! Even more surprising (at the time at least) was that I thought I wouldn't have much of a post this year as I thought that my expenditure was comparatively low this time around. for volume at least. In terms of funds spent, I'm sure I went way over the amount I spent last year. My custom arcade stick wasn't cheap you know!
Well, I was wrong. Dead Wrong!!! In fact, for the first time, I was unable to fit all my purchases into a single photo, so I had to take two!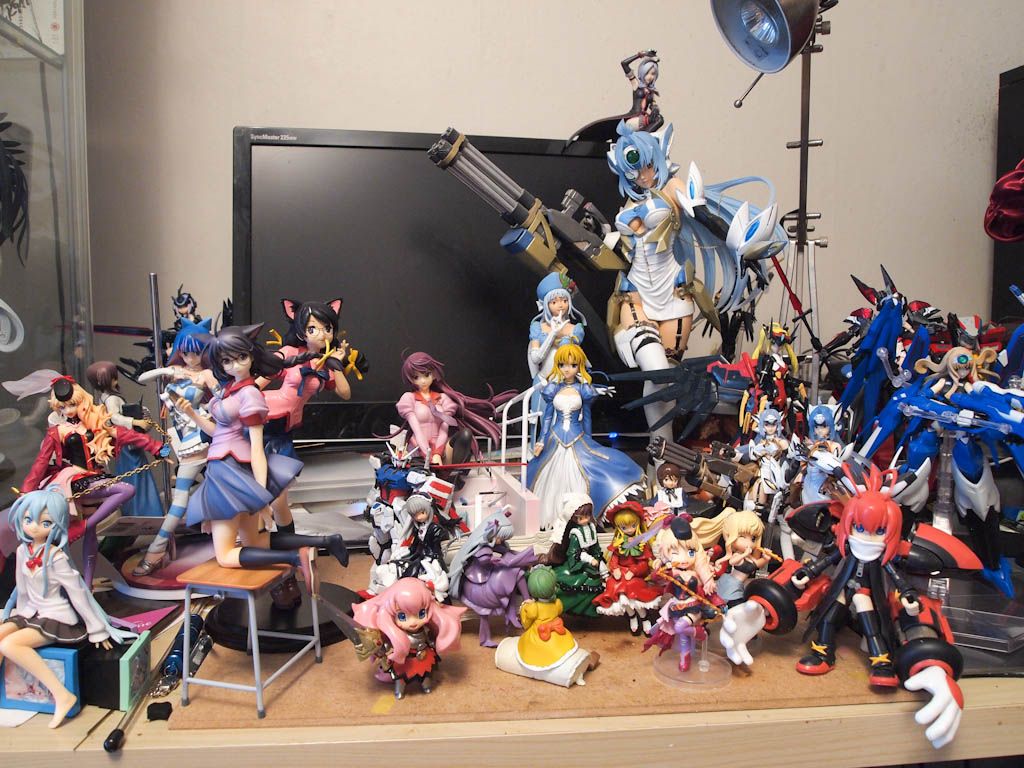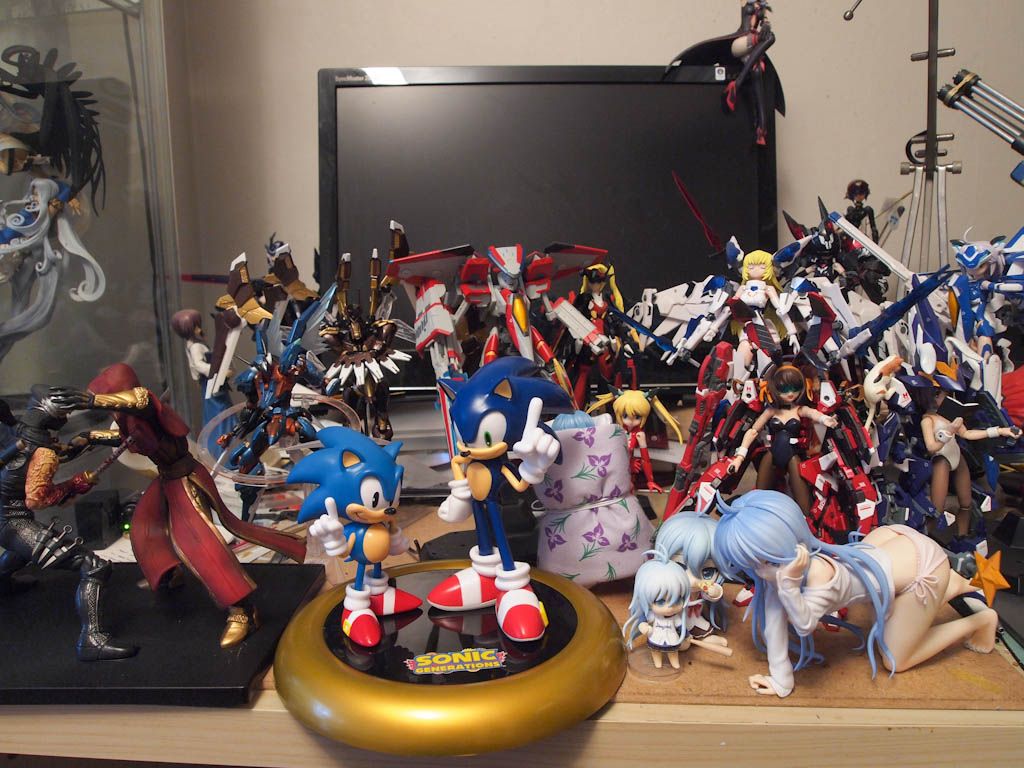 誕生日 おめてとう
OK, I cheated a little with KOS-MOS since she showed up at last years post as well, but she wasn't actually complete back then so it seemed more fitting to have her here this time too. Eas also isn't part of the post, but it's troublesome to remove her from her perch. See anything you like in there? Let's take a closer look.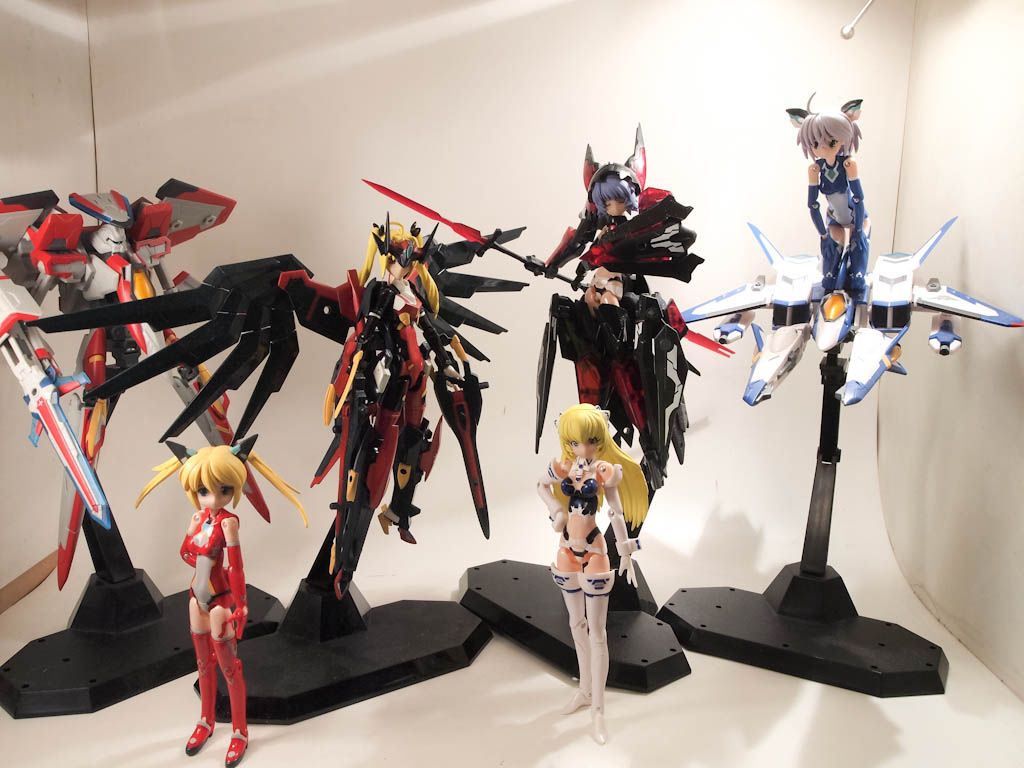 First up, we have the Busou Shinki. From 1 last year to 6 total now! Sadly, there wasn't enough room to fit everyone's armour in the photo so Altlene lost out. I have to say that I really do like Altlene and Altines but the Vic Viper series are lots of fun too! Nothing from the Busou Shinki line really interests me at the moment but I wouldn't be surprised to see a few more get added to the collection in the future.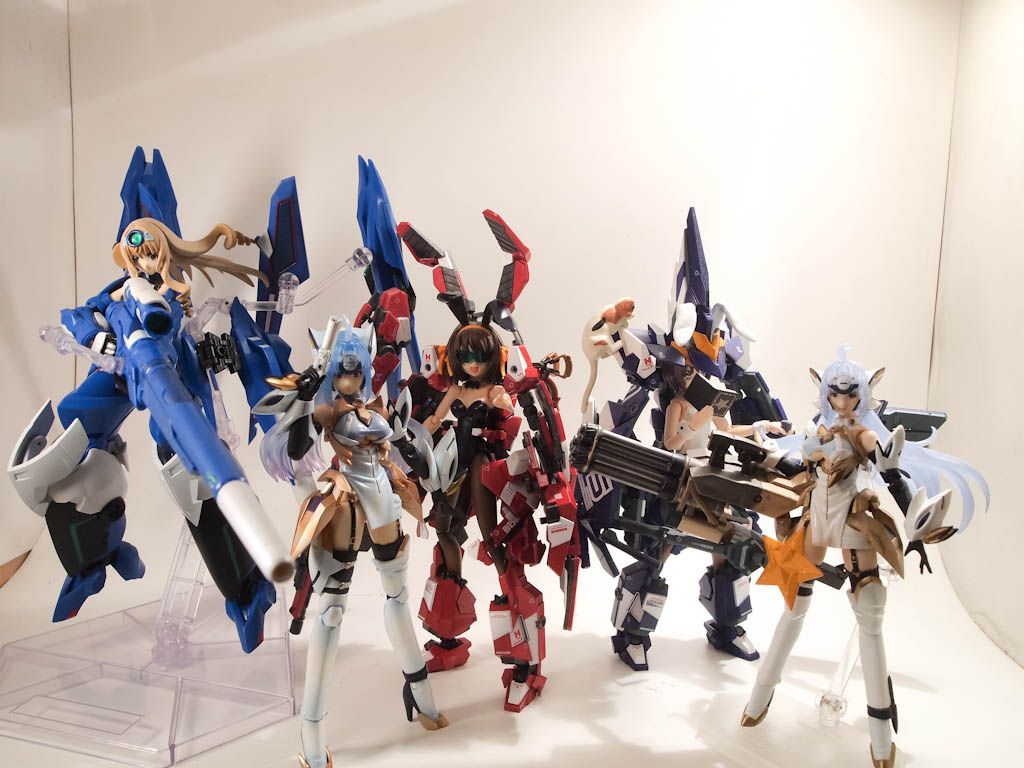 Next up, we have the other Mecha musume! KOS-MOS is a little bit of a stretch but she fits in here better than elsewhere! I still think the AlMecha stands heads and shoulders above the Figma but I suppose people flock to the figma due to the more agreeable price. Cecile is the newest addition, having only arrived last week but I've already pre-ordered the AGP Laura Baudwig. As for the Haruhi mecha, I've caught a little bit of a "gotta get them" all fever with those, which is why I have the second version of the Haruhi Mecha (which added arms to the original) and the Nagato mecha too. I already have imouto on pre-order and you can bet your savings that I'll be getting the Mikuru and Asakura mecha when they become available! Mecha Musume really are one of my biggest weaknesses!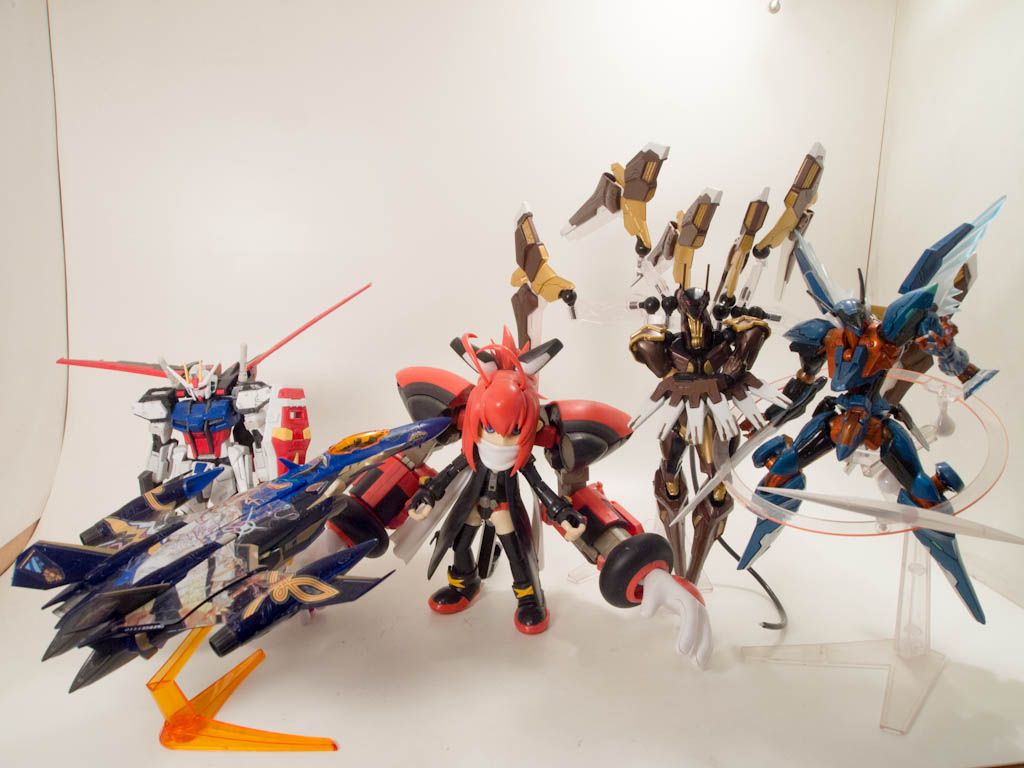 Next up, we have the mecha. Pretty sparse on the gunpla front this year as well. I wonder when it was that I started feeling disinterested in gunpla? I used to look up info on the next MG and PG kits frequently and pre-ordered interesting one instantly but now, while there are quite a few kits which hod my interest (MG Unicorn Banshee and full armour version, not to mention the MG endless waltz and SEED kits), I don't have any major drive to purchase them. The building process also isn't as fun as it used to be. I was also a little disappointed in the RG kits, as they're really just coloured armour pieces stuck on an effectively prebuilt skeleton. Pest-X san was fun though and I was really glad that the Sheryl decals were much easier to put onto the Durandal. Jehuty was a beautiful revoltech but Anubis is easily my biggest disappointment for the year. Aside from the bland colour scheme (from the 2nd game) it's horribly balanced and won't hold its pose for very long. The stand just isn't fit for purpose and it's really frustrating to try and just stand the damn thing up!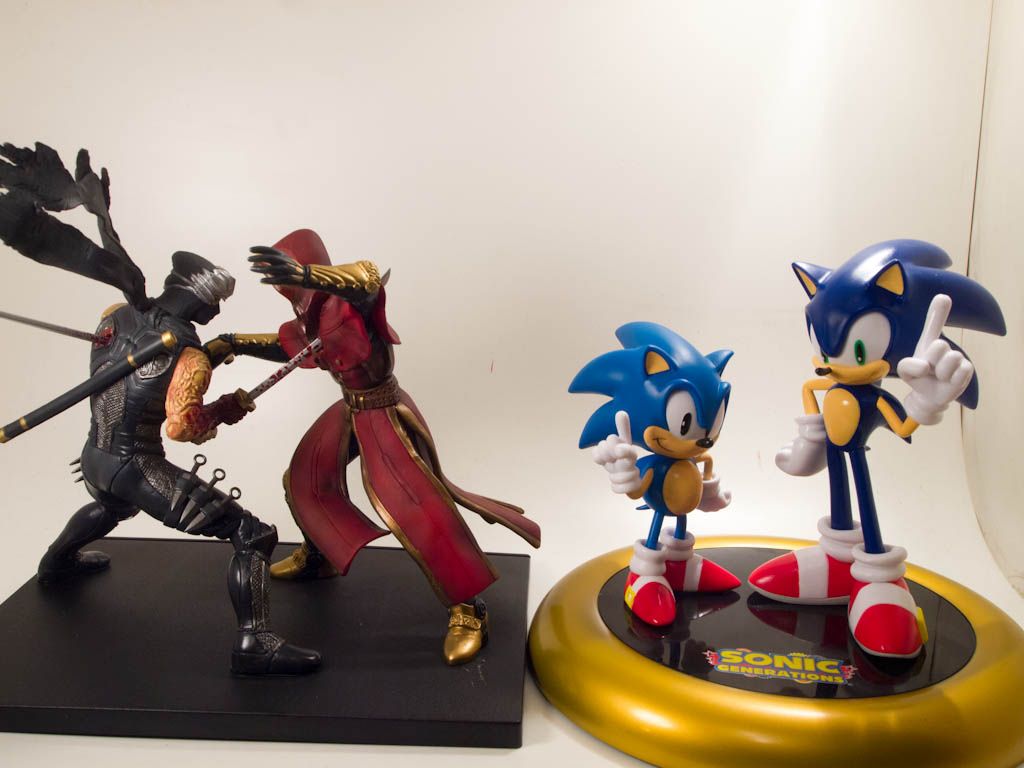 These two figure sets were part of the limited edition collections from their respective games, Ninja Gaiden 3 and Sonic Generations. Sonic Generations had a lot of extras so I went for it immediately, but for Ninja Gaiden 3, I knew the game wasn't going to be good from my playthough at the eurogamer expo but I went for the special edition anyway because I wanted the Dead or Alive 5 demo! I have to say though, that the NG3 statue is pretty well made. Much better quality than the sonic figures! Doesn't make up for the crappy game though!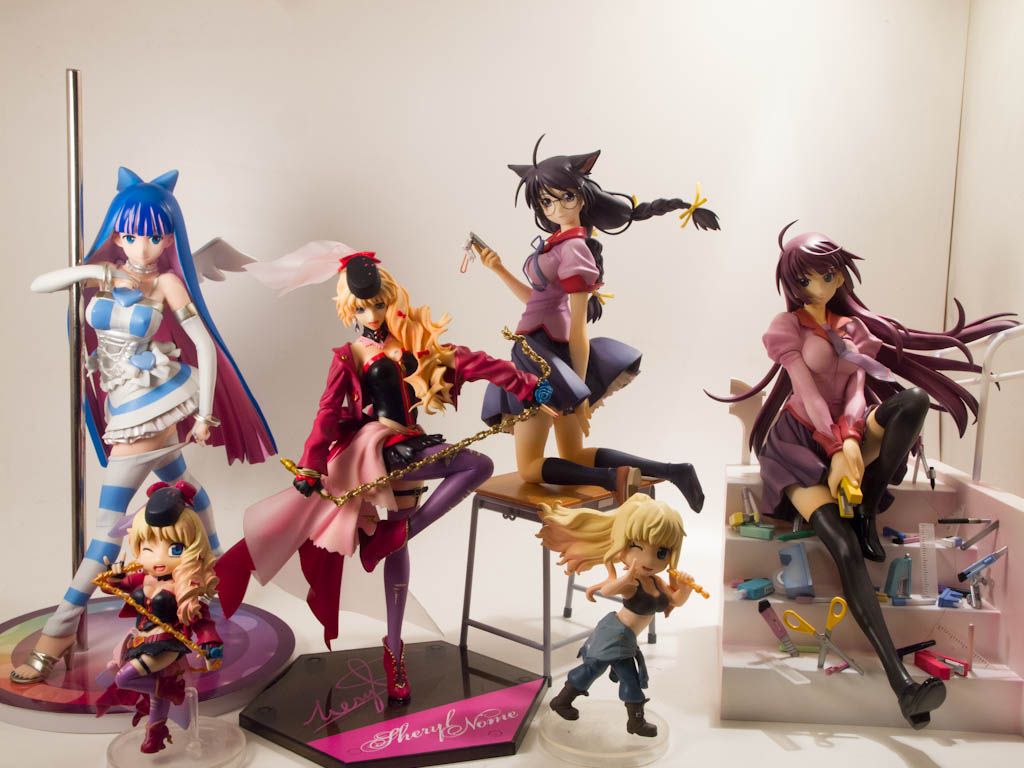 And now, we have the majority of the PVC purchases. Only 3 additions to the Sheryl army this time, but that's simply because tracking down the ichiban Kuji figures is proving difficult. Not without paying an exorbitant premium at least! H ave to say that I was very impressed by the Alter Senjyougahara but was underwhelmed by the GSC Hanekawa, even though Hanekawa is my fave character from the series. Stocking was just poor. I wrote reviews for them over at Tomopop. Feel free to check them out if you're interested.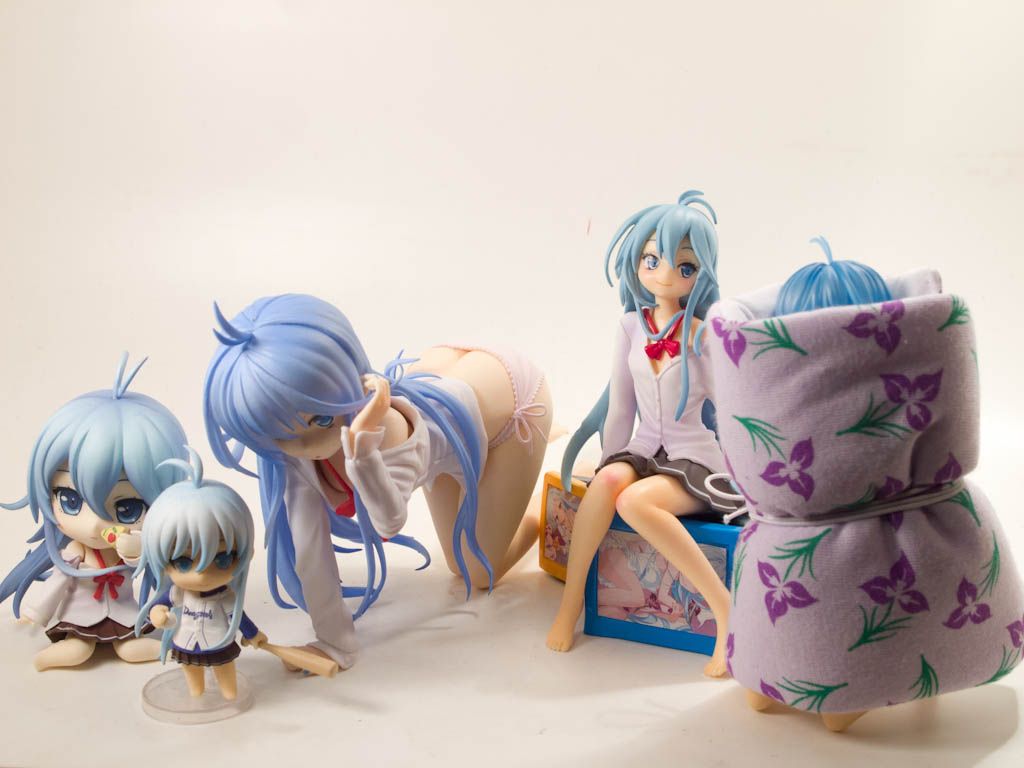 And then suddenly, Erio!! Lots of Erio figures! Despite the quality of Erio figures being rather haphazardous, I still found myself with 5 figures of her, with a 6th in transit! Not bad going really, though she's not at the level of Sheryl Nome yet, not by a long shot.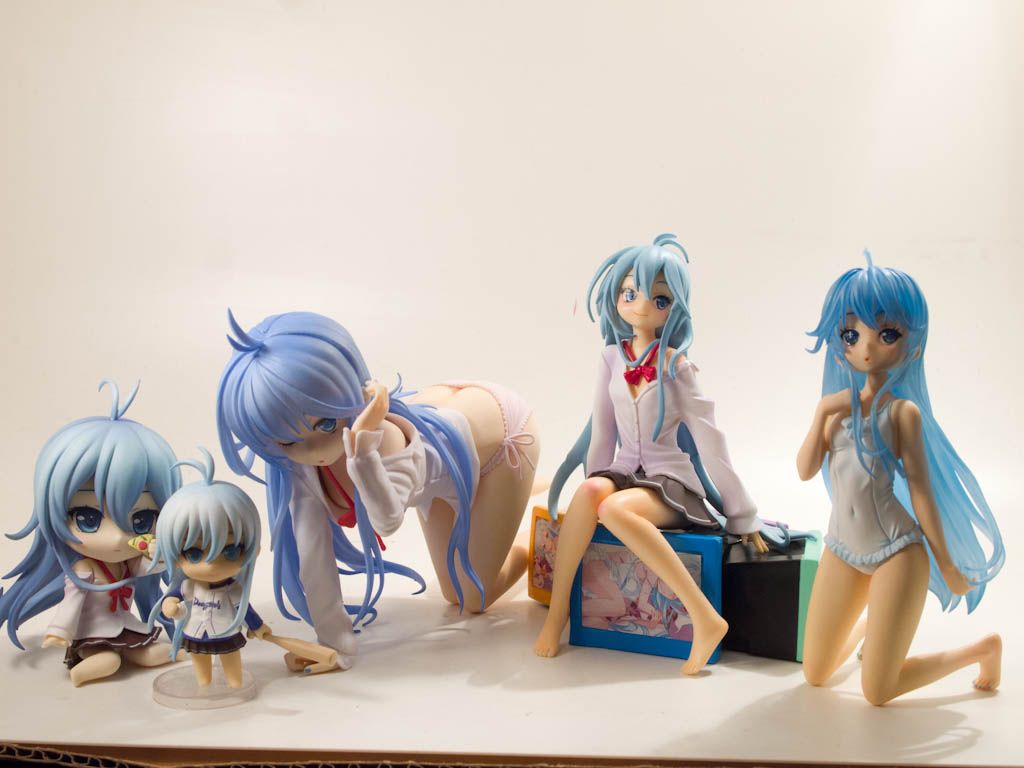 And for those curious, the same photo but without the futon. I purchased the dengeki hobby limited edition beach queen Erio, which is why I got the futon as an extra.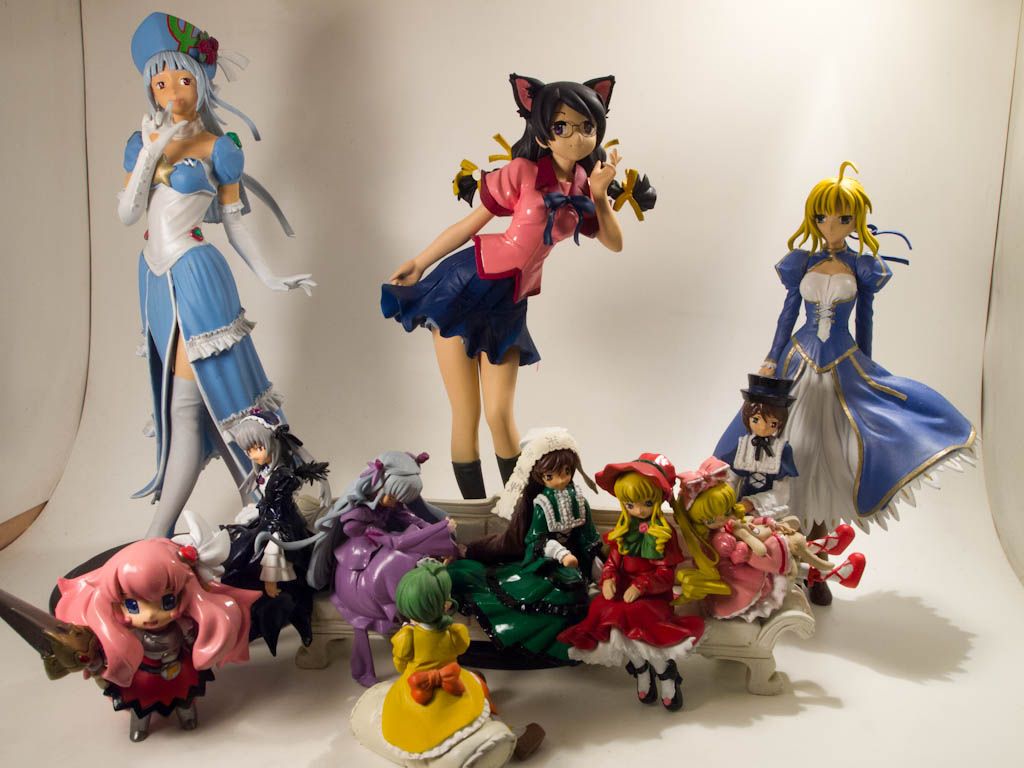 And last but certainly not least, are my garage kit works from the past 12 months. I skipped KOS-MOS for this one as most of her work was done in the previous year. The Opera-tan was a kit from HobbyLink Japan when they were promoting their own original kits for sale. It was a very nice kit, especially if you like the style of the sculptor but it was badly hurt by a complete lack of brand recognition! But I did finally manage to build my Rozen Maidens and Try-GK Saber. Himeji was a nice distraction and Hanekawa just managed to beat the deadline! You'll see her in a full post in the near future!
And that's about it! Once again, I'd like to thank 7 for the hosting. Without him, there would be no blog. I'd also like to thank the team over at Tokyo Hunter, who are always a great help in getting kits from events and a big shout out to all the readers of this blog! Thank you for putting up with the bad writing and finding an interest in what I do! Lets see if I can get to year 6!!