I have been playing way too much Soul Calibur V…
From the launch event on Saturday to the mini tourney this week and the lnline playing for most of the remaining time, I've been neglecting a fair bit of things. That should change soon though as the UK version of Catherine should be hitting my mailbox soon! But I was able to pry myself away from Soul Calibur long enough to do a little more work on Saber. And the main thing that prompted me was the custom parts which I unlocked in the game which allows you to make saber in the create-a-soul mode. If you've  seen the parts then you know exactly what I'm talking about. I have already seen several attempts at introducing saber into the game, the most hilarious one was a saber with Leixias moveset. Seeing saber with a thin sword and bobbing up and down instead of having her usual stoic fighting stance was rather surreal.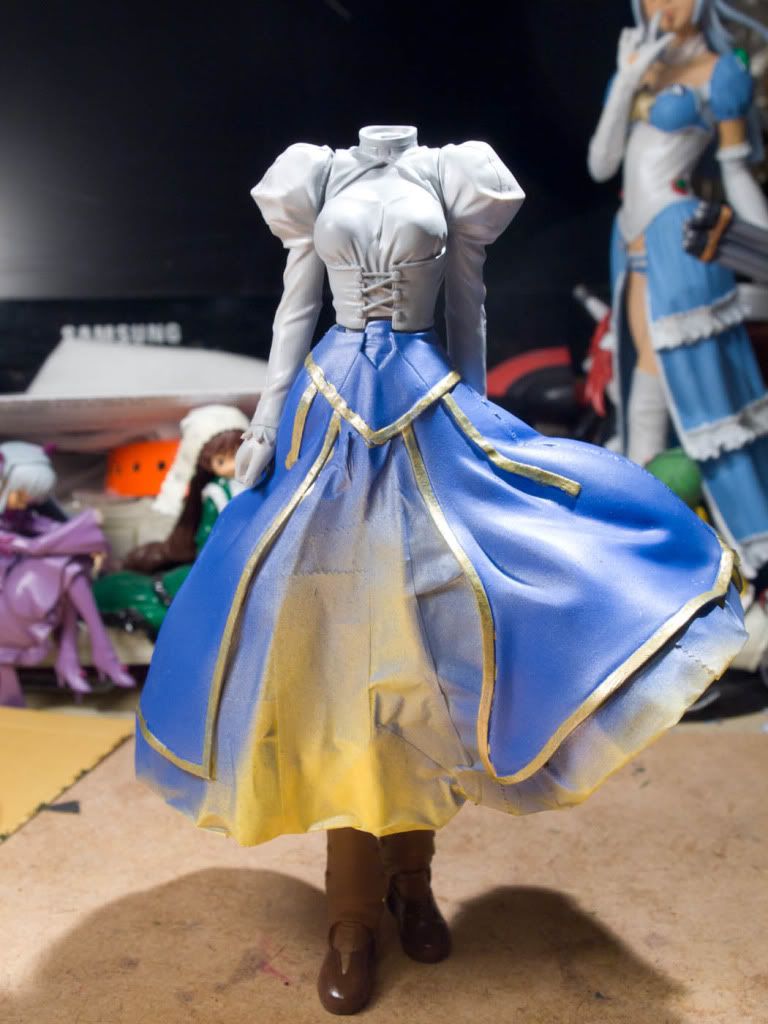 At the moment, I'm still just experimenting with the colours a little. The blue above is actually lightly sprayed over a coat of silver paint to give it a little glistening effect. The gold needs to be done over a few more times but I'm trying to decide if this is the type of blue I want to go with for the kit.. There are also a few other minor issues which need to be taken care of as well.
The Skirt parts don't fit exactly and so, i'll need to work on filling the gap and it also had a knock on effect with the upper body as well. I'll have to be very careful about how I handle that section. It might actually end up being harder than the rest of the kit put together as it restricts my ability to mask and cover the exposed areas while I paint. Still, It's not that bad and you can't expect the kit to be a complete cakewalk… Just need to pry myself away from the video games long enough to work on it more. And Mass Effect 3 is at the beginning of next month!!! And there's continuum shift II Extend and Hyperdimension Neptunia mkII in between!! Too… Many… Games!!!