It came to my attention while completing the latest Rozen Maiden that I have actually been pursuing a rather aggressive timeline for its completion. 1 Doll a week is actually rather tough (even if they are somewhat simplistic) and I'm a little surprised that I have managed to keep up so far.  Incidentally, the 4th doll is completed but I thought I'd take a break from posting about the current project and just do a side post this time, afterall, my wonder festival acquisition has arrived, along with something I've been waiting  for with some level of interest.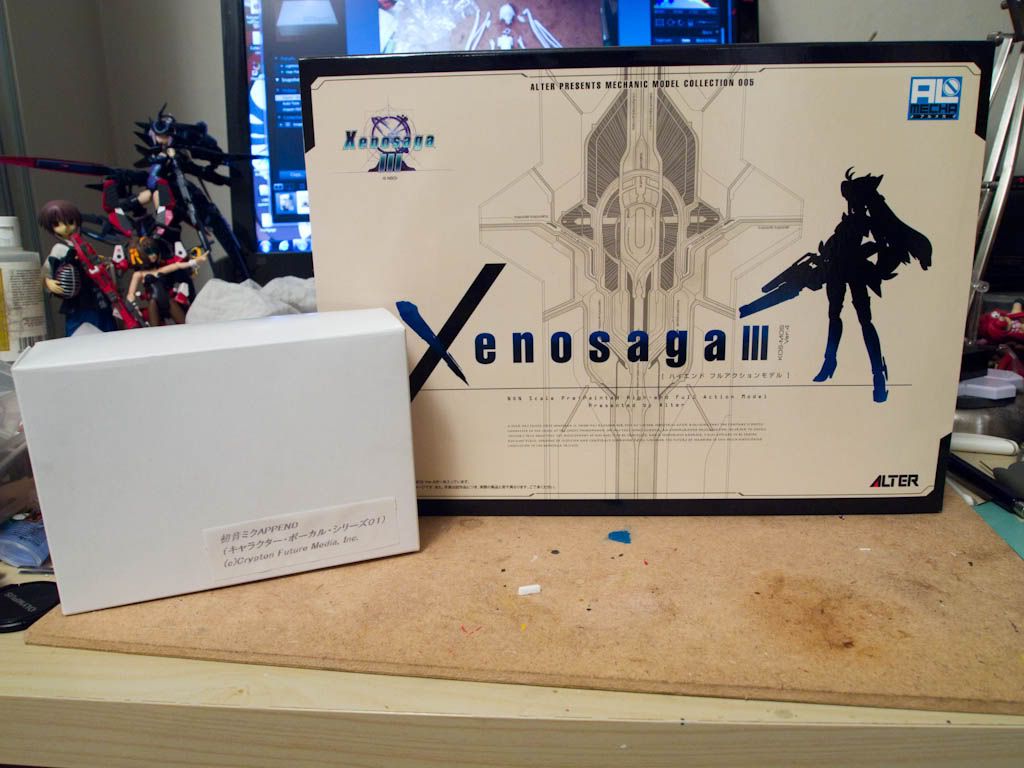 Yup, that be the Almecha KOS-MOS from Alter! This ain't no figma boy, no figma!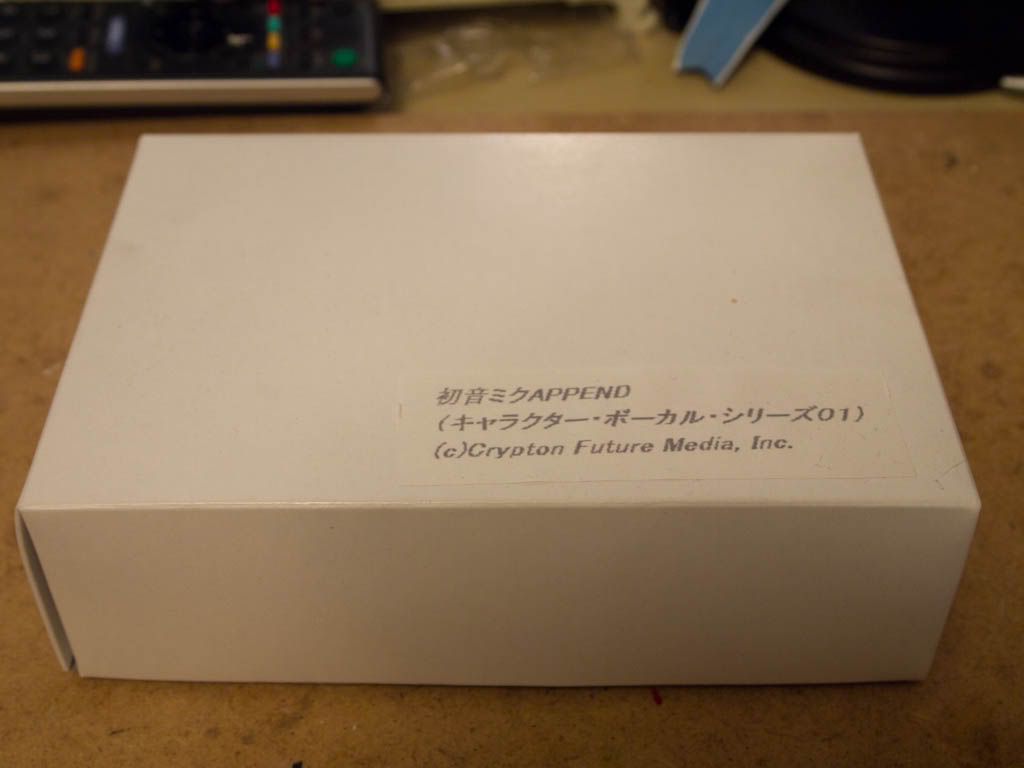 First up, here's Miku Append!
Laying the parts out, she doesn't seem as bad as I first thought from the colour images. The head does still seem comically oversized though. And there are 3 of them! All Identical!!! Dunno why that is the case.
Other oddities in the box include a rather large screw for which purpose, I have no idea. A lack of instructions doesn't help matters either. The other strange thing is that the kit came with what appears to be 3 sheets of sandpaper of various grit. Except that it's more like sand-fabric than sandpaper… The back side is very soft and flexible. If anyone has an idea as to why the kit comes with these bits (aside from the maker handing them out cos he's a nice guy) I'd love to hear it!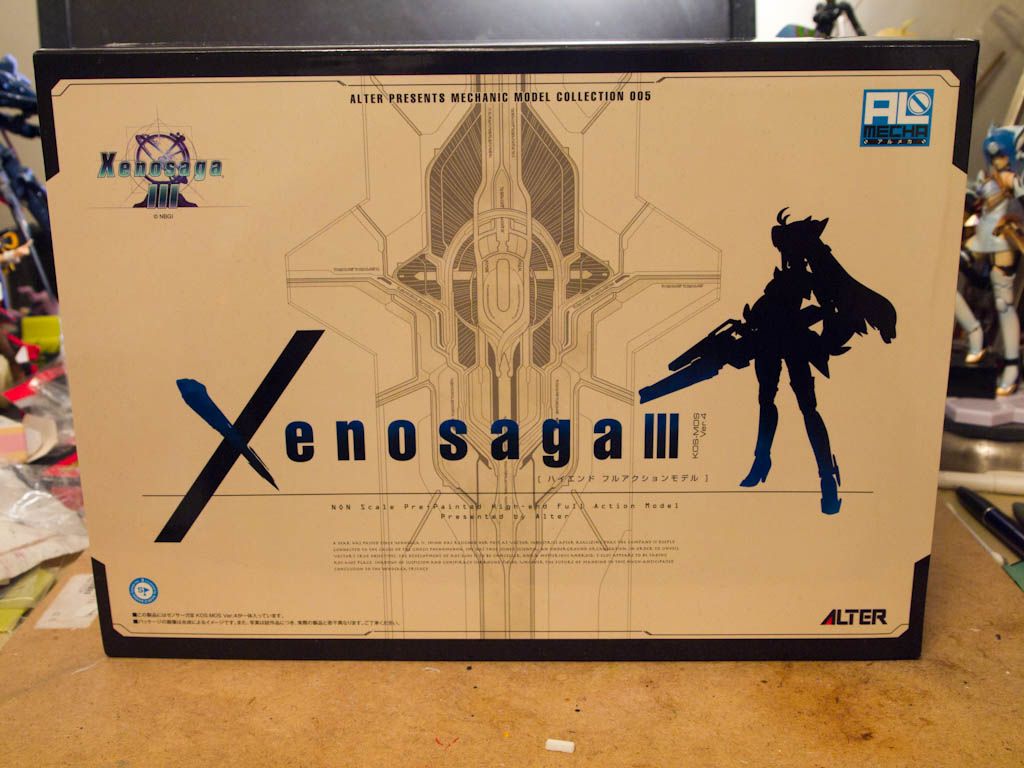 And finally, it has arrived. Announced before the Figma version but arriving much later, I have been very curious about how Alter would handle a poseable KOS-MOS and I have to admit that I really like the final product.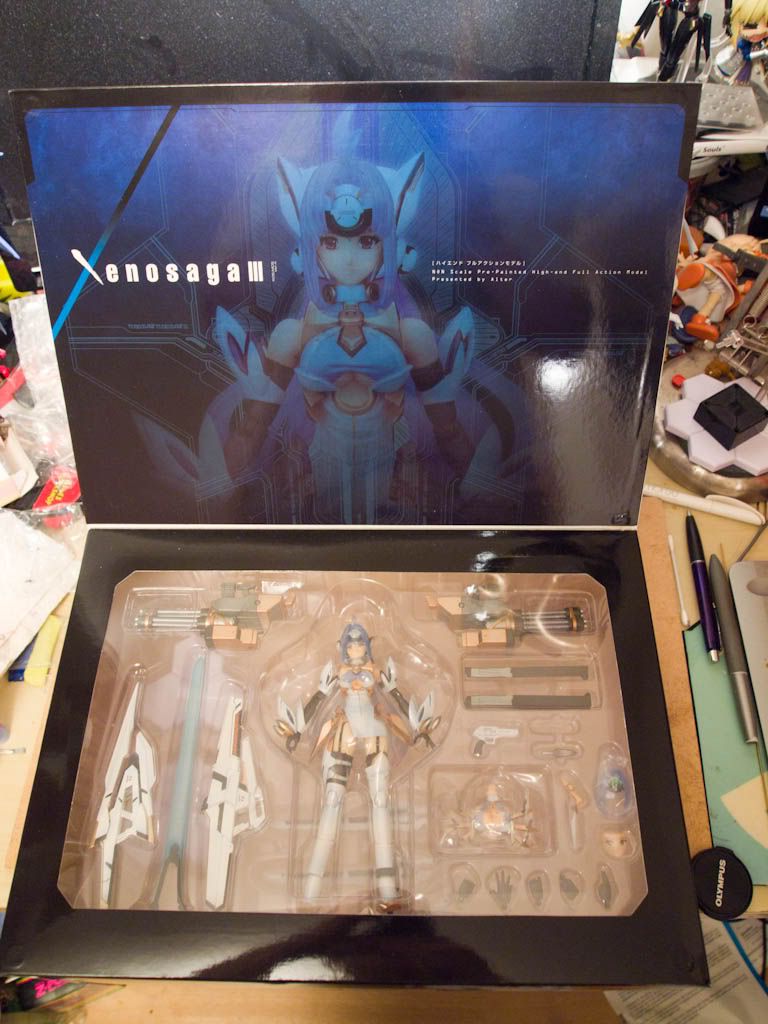 If the Figma could be described as "basic" then everything about the Almecha KOS-MOS screams "High-end." Everything, from the packaging to the build quality is above the Figma but it comes at a cost and I'm not sure there's a big market for it. It's one thing choosing a more expensive PC component or household item over a more cheaper, basic "functional" version but figure collectors tend to be a little more frugal. And if a cheaper item does enough, do we really need to go for a more expensive item which, while better, doesn't differentiate itself too much from the cheaper version?
Sometimes, Better may not be enough.
No big review this time, but I do have the figma version around as well, so expect to see a comparison post. For me, The Almecha wins hands down, but I feel that most people will be satisfied with a figma.