As collectors, we tend to not think too much about our purchases once they're done. Afterall, we wanted it so we bought it! But there must be a point where a collector will look at his items and think "Yeah, I think I went overboard!" Not necessarily with the price, but with the actual item.
I'm not sure where my limit is, but I think I have come very close to passing it with my purchases this month!
Truth be told, only Izanagi is an actual purchase from this month and it's not even for me! I just need to build it for someone else. The other 2 were purchased a while back but I was waiting for the release of the MS girls artbook (Which is awesome!!! I'll get into the details later in the post)
As for the Sheryl Nome box… I have repeatedly said that the only way I would get a doll would be if they made one of a character I don't just really like, but ADORE!!! Someone like Mahoro from Mahoromatic, or Sheryl Nome…
Well, it's time for me to put my money where my mouth is.
What I had purchased was a Sheryl Nome "limited action figure" from Megahouse. They call it an action figure but it's pretty close to being a doll. It just lacks the faux hair and the really scary eyes. Supposedly, she's a limited edition. one of 700 made, but I can't find anything in the packaging which could confirm that.
Megahouse will also be releasing a "stage version" in May with the Admiral Stripper costume. Yep, I've ordered that too…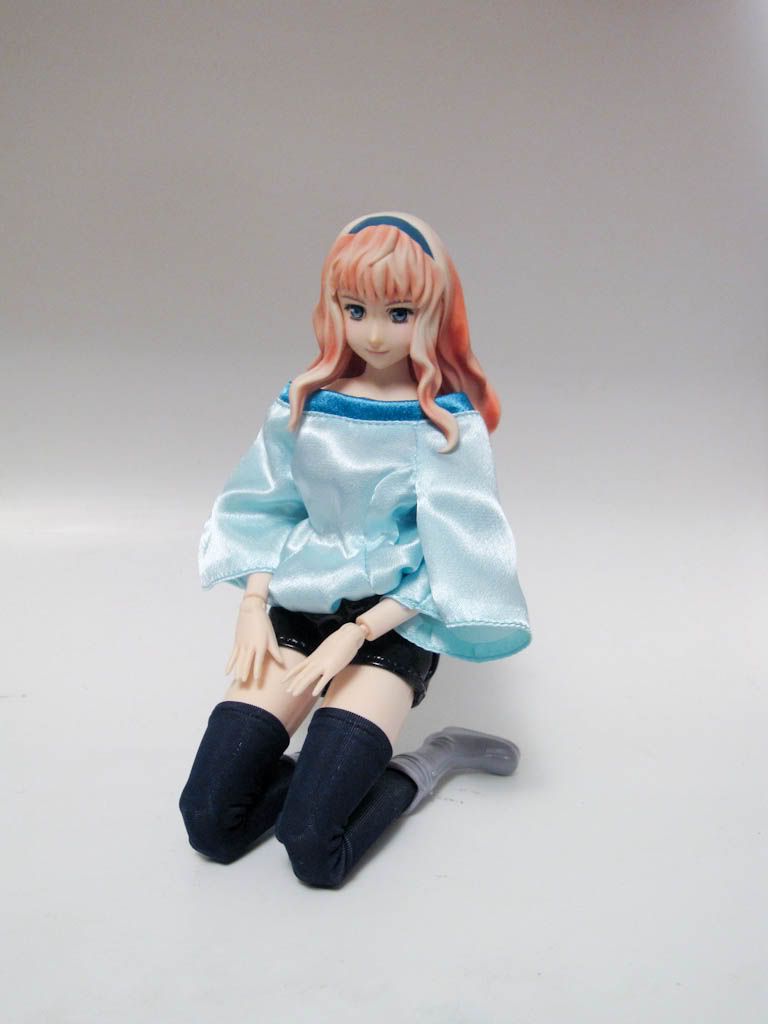 The figure itself isn't too bad and is actually one of the few Sheryl figures I have seen which doesn't have a really ugly face. Sad truth: Nobody can do a good Sheryl face!!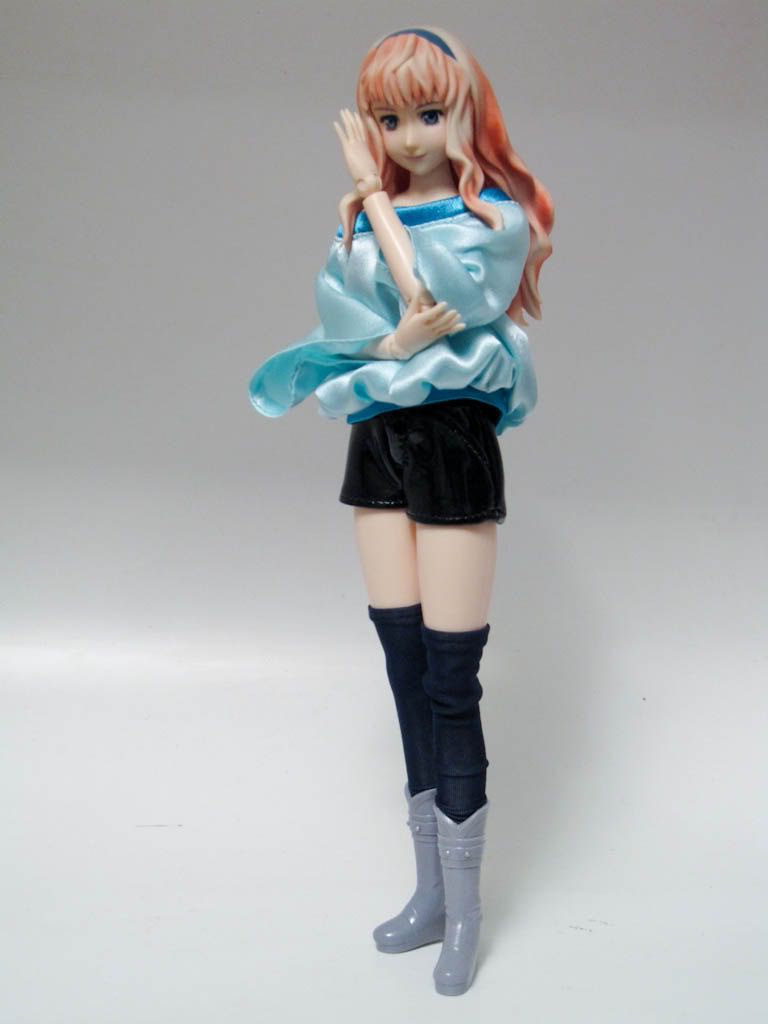 Articulation is rather impressive and she comes with swappable hands and feet as well as a bunch of accessories which I have not bothered to try out.
For those who are wondering, here's what her joints look like.
It had to be done!!! And yes, they even gave her undergarments!! Strangely, I couldn't bring myself to remove those for some reason…
And here's the current state of my Sheryl "army." Come to think about it, I still have my VF-25 with Sheryl Decals to build!
Overall, I don't regret buying the Sheryl Doll (No, I don't care what people say. I will NEVER call her a daughter and I did NOT "adopt" her. Doesn't that just apply to Dollfies anyway?) but it really did make me question my sanity a little when she finally arrived.
But in any case, On with the good stuff, the MS Girls Artbook!!!
I love MS girls. I have several hundred images picked up through the internets over the years and managed to buy the original MS girls artbook from Radiant! So when I heard that they were releasing a new one, you could bet your ass that I was going to get one. The only annoyance was that, when I preordered, it was only available via the publishers website so I used a proxy to get it. It wasn't until much later that I found out that it was a general release so I could have saved on the proxy fees! Oh well, the important thing is that I have it!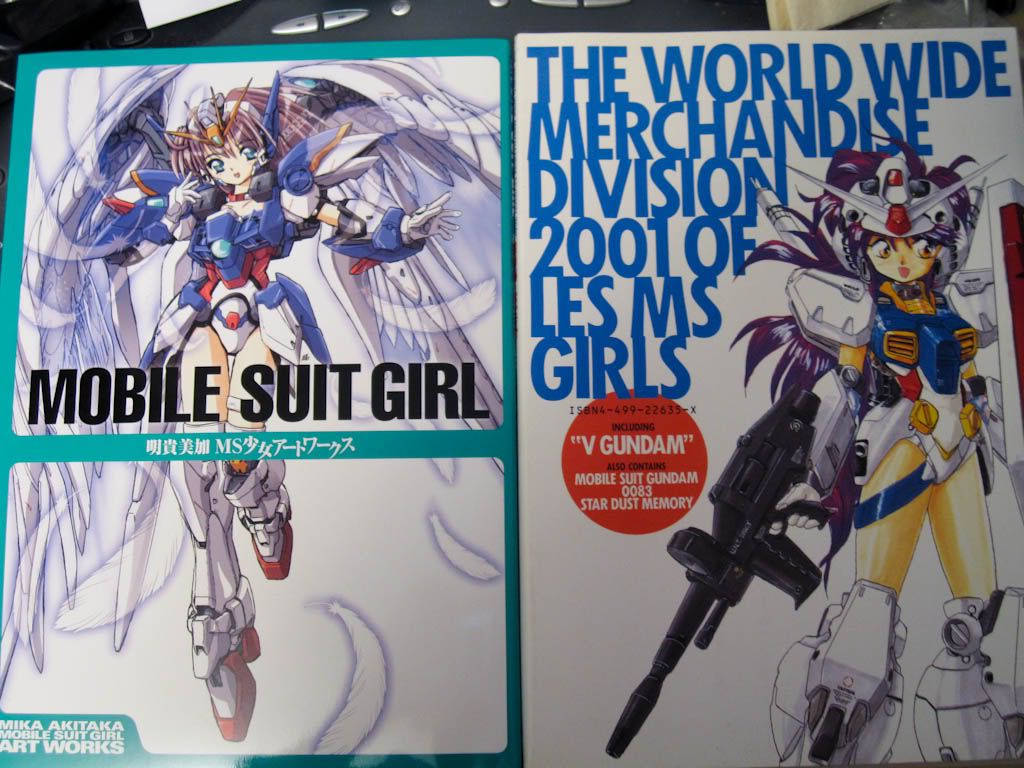 Both books were done by Mika Akitaka but the new one covers the works from 2001 onwards. The first book had a lot of art which was done in the early 90s and you could see it in the designs. In fact, a lot of them looked like they belonged in 80s anime!!
His art has evolved since then and many of the images in the book have been available on the net for some time since they are often serialised in Gundam Ace magazine or some other publications. But there were still quite a few new ones I had never seen before. And because I'm feeling generous, I took a few shots of my favourites!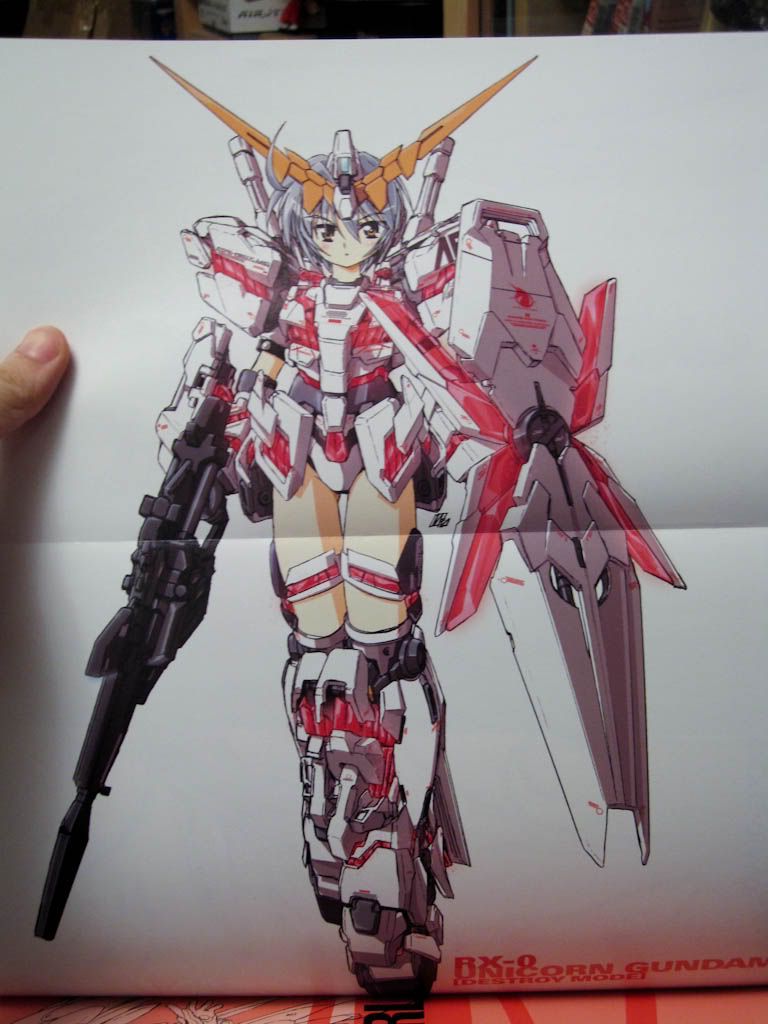 The book came with an A3 sized pull out poster with the wing zero custom girl on the front cover and this unicorn girl on the other!
Wing ver Ka Girl and Gerbera Tetra girl!
GP02 and GP04 girls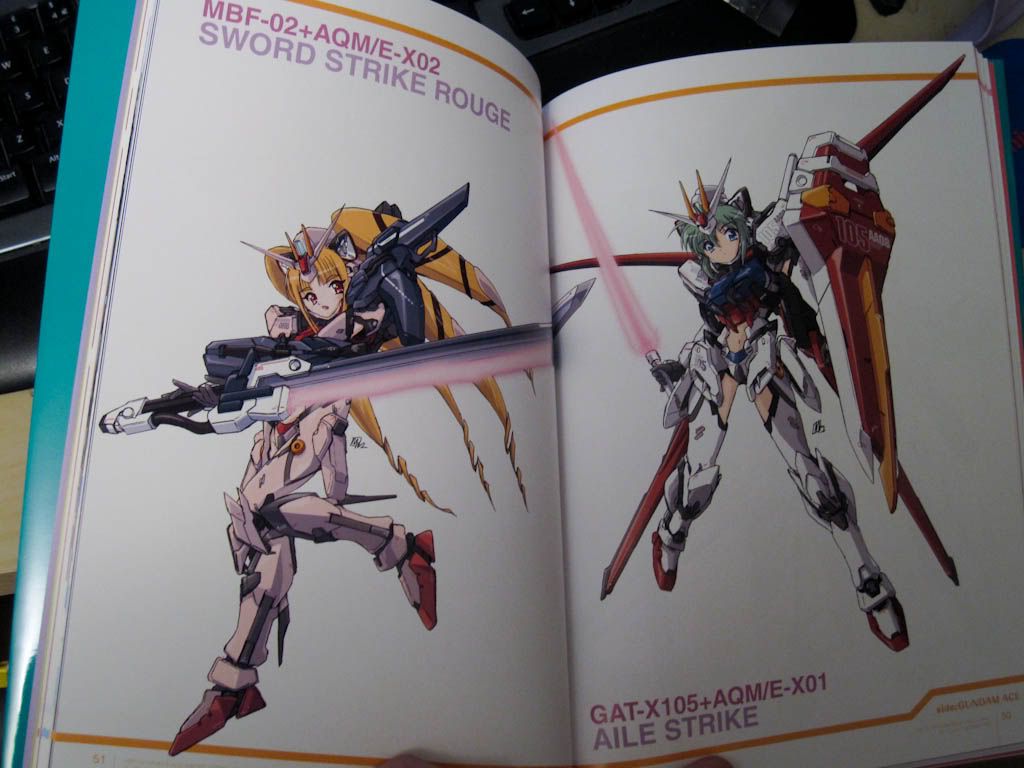 Aile and Sword Strike Girl (there was also a launcher strike girl on the next page)
Insanity!! Penelope and XI gundam girls from Hathways flash! (gotta love then engrish too!)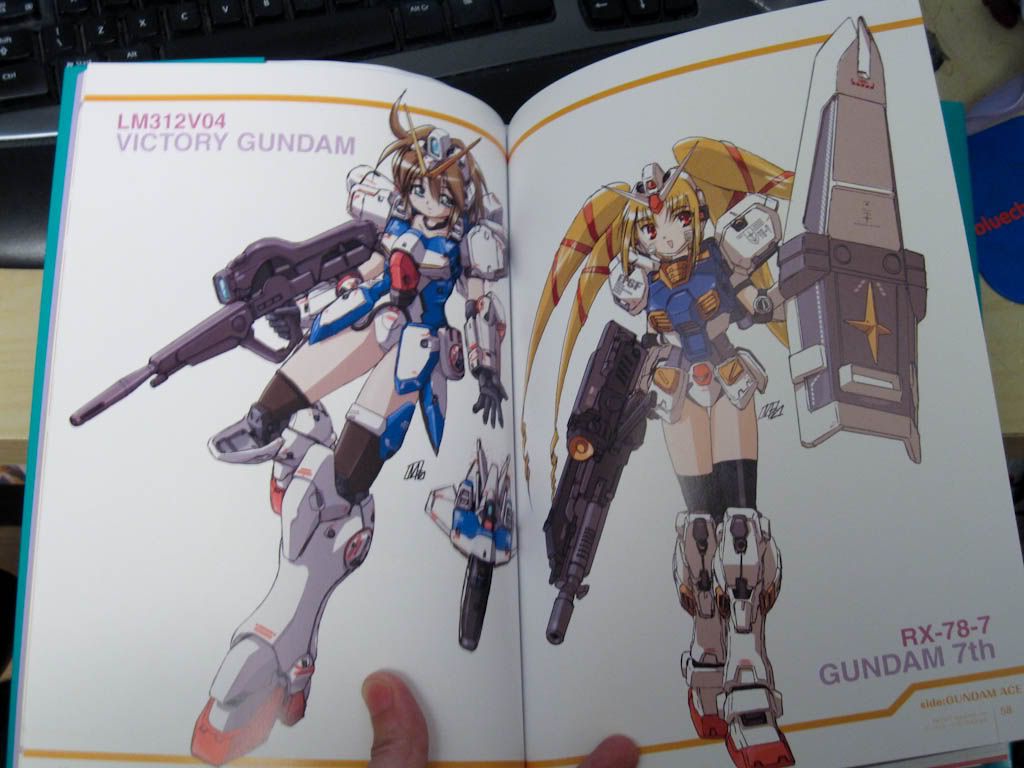 V gundam girl and Gundam 7th girl (A MSV)
Full armour gundam mkIII and psycho gundam mkII maid girls!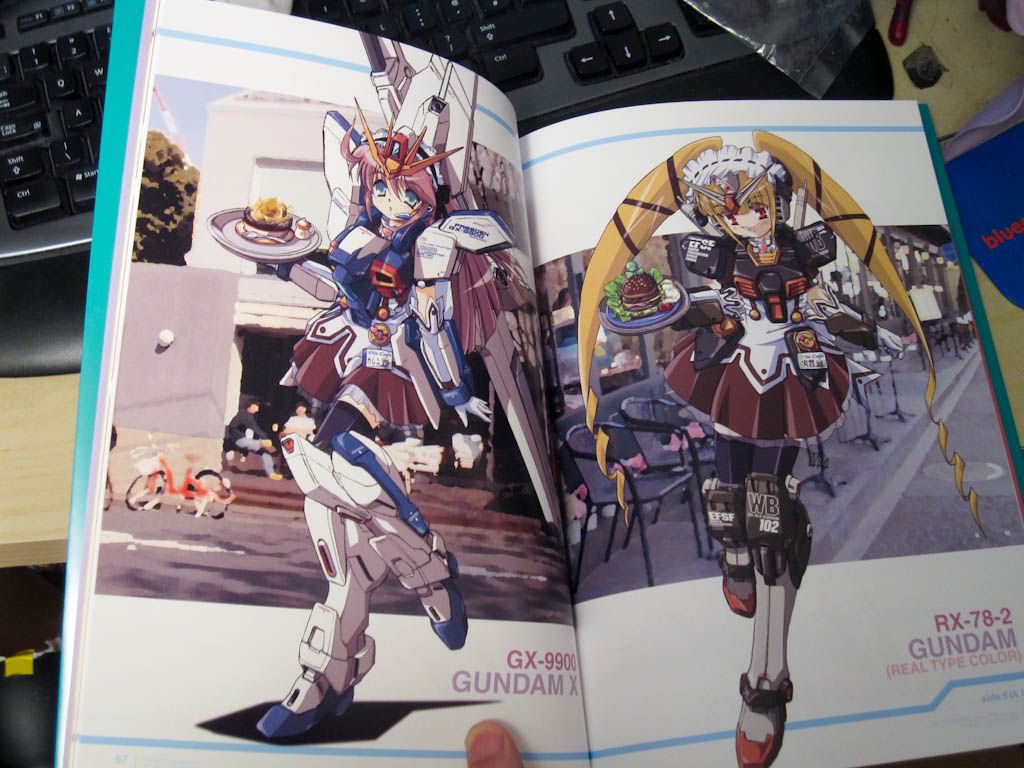 Finally, we have Real colour gundam maid girl and (quite possibly my favourite pic in the book) Gundam X maid girl!!
Ah, I wish that someone would do some figures of this series. I don't care if it's PVC or resin (tho I would prefer resin). Someone, please make it happen!!