Yesterday, I was able to meet with world famous blogger Danny Choo while he was doing a talk at his old University while he is in the UK.
The talk was called "Creative Industries in Japan: an audience with Danny Choo" and he basically spoke about how his interest in Japan started, what he did to get to where he is currently and a brief glimpse into his future plans.
Now, I am aware that Danny has his fair share of admirers and detractors in equal measures and, if I was being honest, I think I would be classed as a detractor. But my issues have nothing to do with Danny Choo himself, but rather the persona of him which has been created online, mostly by the community which idolises him to the point of being almost fanatical! But this was a rare opportunity to meet the man himself, without all the fluff and corporate baggage which has more recently been the regular focus of his site and the scorn for certain sections of the online community.
I've spoken with Danny on and off for a few years via email on little things but I never went to meet the guy in person, so I thought "why not?"
Here's a look at the lecture theatre where the talk took place. Not exactly a full house but it was still rather busy.
Initially, I and a few others were sat near the back where we had a clear view of the stage but we eventually moved forward when we realized that 1) we didn't need to see the entire stage and 2) the terrible lighting prevented us from taking photos!!!
The talk itself was rather uneventful. If you have been a follower of his site for a few years then he was basically going through his posts about how he got started so it was probably stuff which DC.com members have read before, although he did share some of his more eccentric memories, such as taping the background noise in Shibuya while he was on a trip there and playing it back when he was back in the UK to help "transport him back there" (his words, not mine!)
The talk was also anything but smooth, with a single persistant technical glitch which caused the projector to turn itself off at random intervals. Personally, I blame his Mac. Yes, I'm a PC so deal with it!!
Macs "just work" fine so long as there are only other macs around. Try and get it to work with a PC tho… oh dear. (incidentally, connecting to a macbook pro using my windows 7 PC is the only time I have ever seen a BSOD for windows 7. And the macbook caused it!!)
In any case, at a certain point in the talk, the projector simply refused to go any further and stalled so an impromptu break was called while the techies tried to figure something out. I think they ended up copying his presentation to a PC and running it from there but I'm not sure.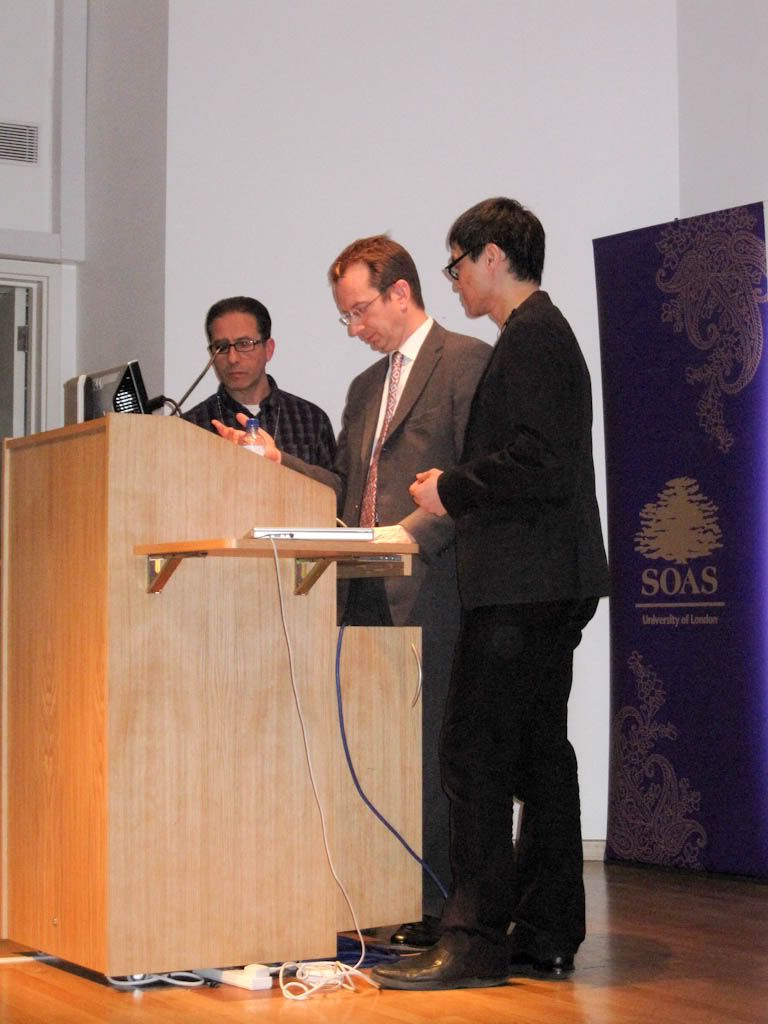 The staffers trying to sort stuff out!
In the meantime, Danny tried to entertain the crowd by offering out freebies such as surgical masks featuring various 2D girls.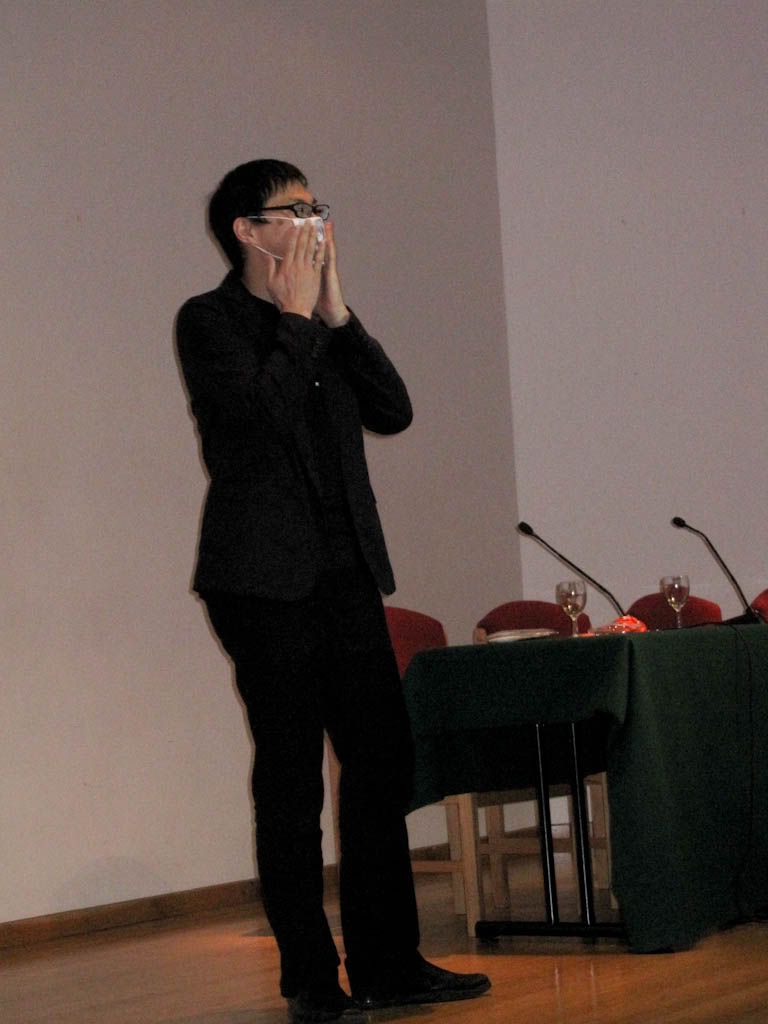 And danny choo straps
I attest that he should have worn the mask backwards so the picture of the girl would be facing him. That way, we could say that he was kissing her! But seeing as his wife was in the audience, perhaps that wasn't the best idea.
As for distributing the items, Danny simply left them on the desk and said "come get 'em" and so the audience did. In fact, they did it so quickly that I, despite being next to the stage at the time, was unable to take a picture of the audience grabbing the merchandise!! I ran up to a spot on the stage to get a better position, turned around and they were all leaving already. Ninjas? more like vultures!! Maybe I should have done a Phoenix Wright-style "HOLD IT!" to get them to pause while I took the pic…
And here's the offending slide which caused all the problems. It was of Ita-sha… Even the Mac and projector thought that they were too painful to show!
Apologies for the quality of the pics. The lighting in the venue was just awful!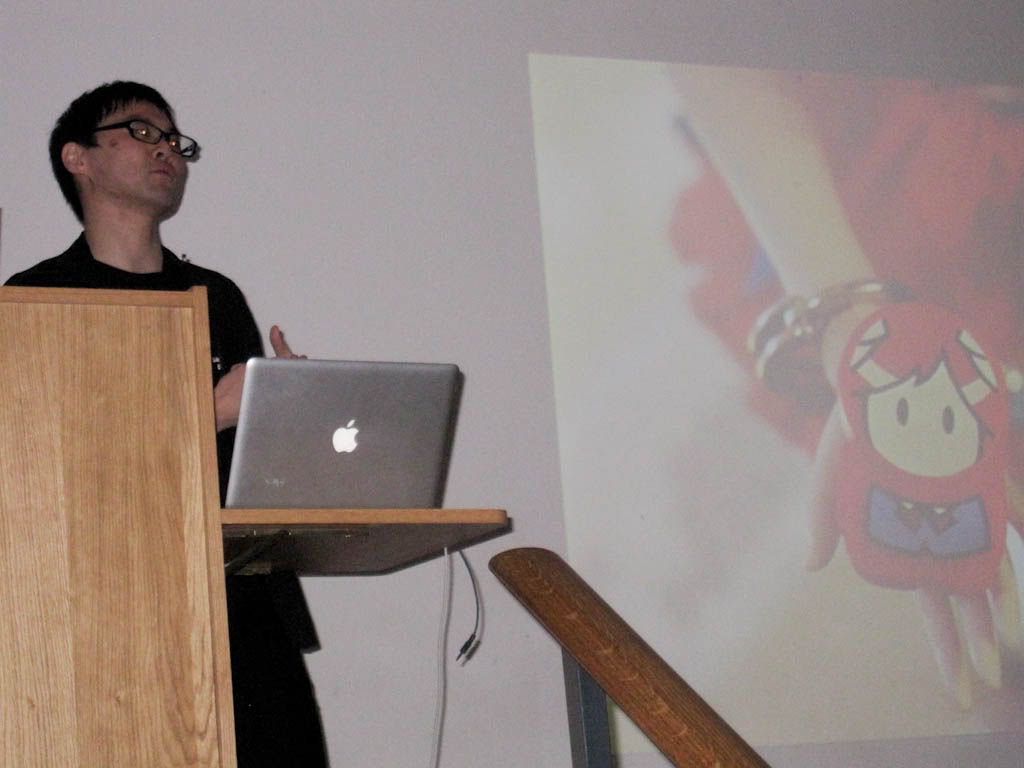 Danny plugging the Pokken devices. It's just a shame that they have rather limited use in the UK since nobody has one!
The end of the talk was the most interesting as Danny started talking about his current projects such as his recently announced anime Chinka and the recently announced Otacool 3. Personally, I think that being a geek and being cool are mutually exclusive. Doesn't mean that you can't take pride in being one or the other but that's my personal feeling. Anyway, Otacool 3 was announced by danny (I think) last week and the theme will be worldwide desks. He spoke of plans to get some anime seiyuus involved as well as getting a few pages for his dad, Jimmy Choo!
I can only hope that this time round, they keep strictly to the "desk" theme and ensure that all the entries are fit to task and still be used as desks. The last time Danny held the desk competitions, it devolved into people simply cramming as much stuff as they could on their desk to grab attention. Kinda missed the point… In any case, I think I'll step aside for this one. Being featured in 1 otacool book is enough for me.
Danny also mentioned that he was working on a pilot TV show which would be broadcast around July. The format isn't quite fixed but he hoped to do stuff like behind the scenes segments, showing how anime or figures were made. He also said that he hoped to get some members of the DC.com community to upload and share a video of their room which would be shown on TV. Think Otacool 1 but with moving pictures and commentary. Not sure if that was confirmed but if it is, I'm sure he'll announce it on his site soon.
And that was the talk in a nutshell. A little something for everyone but non community members or more recent ones will probably take home more than others.
But there were a few things which struck me during the talk. Firstly, on a rather superficial level, Danny has a rather distinct voice. Nothing bad about it but after listening to him speak I get the feeling that you would be able to easily recognise his voice in a crowd. Apparently, mine is the same but enough about that. The other thing is that, while there were times where I felt that Danny lacked a certain overconfidence one would expect to see from a public speaker, one thing which anyone can tell is his sheer passion for what he does. Like him or loathe him, even if you just disagree with him you cannot deny that he is really passionate about what he does and what he was speaking about. That kind of stuff often gets lost when you are simply reading words but when you listen to him, it's enough to make you think.
Afterwards, there was a Q&A session which allowed the audience to mingle with eachother (and hound Danny on a more personal level). I took the early opportunity to get my Otacool book signed and then spent some time with the crowd.
This was the part of the evening I enjoyed the most. Meeting like minded people and fellow DC.com members (tho at this stage, I'm more like a ghost member) and sharing stories. During this time I had a chat with Ken and exchanged a few words with Emily, AKA Meimi132. Both are DC.com community members. Seeing as I don't really have much use for paper business cards, I kept my vcard handy and sent a few over to people. At least I hope so. There's always a chance that their spam guard blocked delivery. So if you're expecting a vcard from someone you met at this little event, please check your spam folder!!
In one of his posts before the talk, Danny encouraged dollfie owners to bring them to the event and show them off. And before anyone says anything, it'll be a cold day in hell before I start calling them "daughters" or refer to a transaction as an "adoption!"
Not to be outdone, I took Christmas HoiHoi, as well as one of my Yoko kits and getsumento heiki mina garage kit to the event to show to others. Hoihoi and Mina seemed to go down very well and Ken even asked if I did commissions. I was a little reluctant to say yes as I don't think I'm actually that good a painter but I was a little more confident when he told me that he saw a shop in Hong Kong where the owner painted kits and sold them and mine were easily comparable. So maybe I will, someday!
A shot of various figures which people brought to the event. Mina seemed exceptionally popular so don't be surprised if you see a few pics of her floating around other peoples blog posts regarding this event.
Throughout the evening both the dollfie owners and Danny himself tried to convince me to get one. Afterall, I've bought garage kits which were worth similar amounts so cost isn't really an issue. But they all failed anyway! As I always say, it'll take a character of Sheryl Nome level to break me down!
And after stories and cards were swapped, that was pretty much the end of the evening. A few people took the chance thank Danny and ask for advice on how to get to Japan in general. I asked him a little about the figure industry. After seeing people reactions to my kits, it made me wonder if it's worth trying to pursue an opportunity to work within the figure industry. Unfortunately, I think I may have blindsided Danny a bit with that question as his answer wasn't quite as in depth as others. In the end, I was left with a "wait and see on DC.com…"
Also, as a rather pleasant surprise, I was working under a veil of anonymity but when I mentioned my online handle. Danny knew exactly who I was. Being a community member for years probably helped but I was taken a little aback by it.
And yes, I had my photo taken with Danny, as did most others but for the safety of children and preventing the need to put a NSFW tag on this post somewhere, I'm just putting the link in.
Seriously, this link may be hazardous to your health
and that was the better shot. The first one didn't look anywhere near as good!
This one should be less hazardous
I blame the cameraman!!
and so, that's how the evening ended. After being a member of the DC.com community for several years (I think since 2005) I have finally met the guy! Admittedly, I didn't get all awestruck and go into fanboy mode but I think that was probably for the better. I would have loved to have more time to chat with Danny about various other things he's involved in but everyone wanted to ask him something so I couldn't be selfish.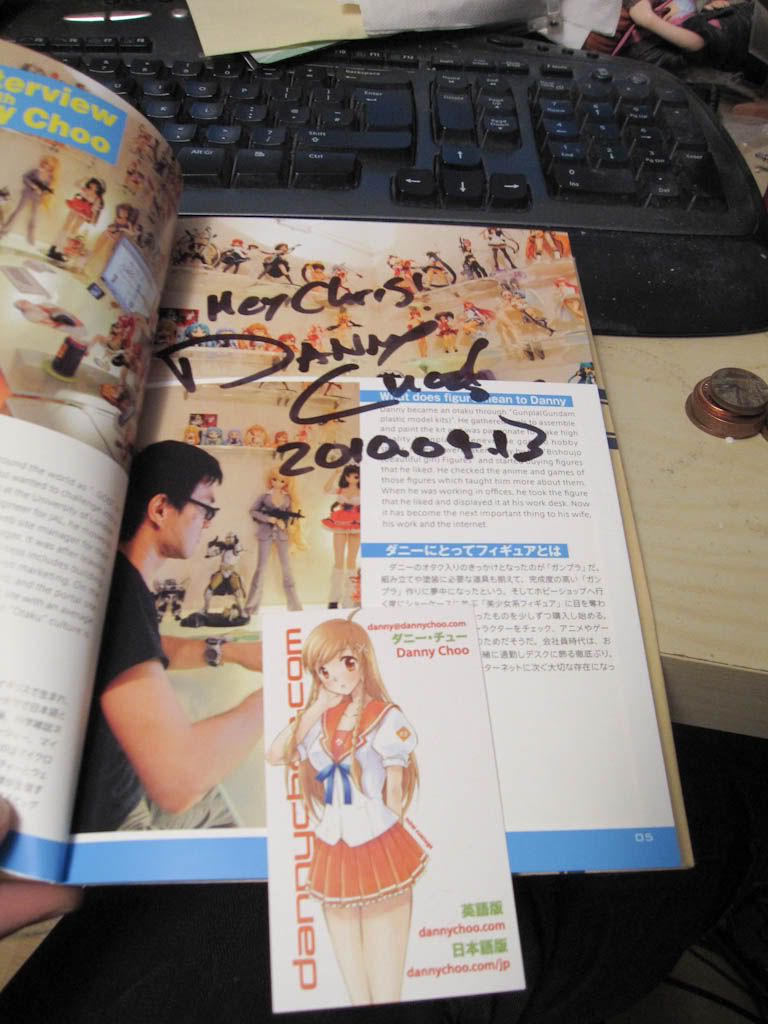 Maybe I'll do it next time he's in town. Perhaps in another 5 years? But at least I get to walk away with my Otacool signed and Danny Choo business card.