Volks have certainly been busy for GK builders, showing off no less than 8 new kits on their figure page!! 3 of them are from galges which I am unfamiliar with so I'll skip over those (tho I also did that with Sylvia Van Hossen from Princess Lover, but now I kinda want her…). No, this is not an attempt to hide the fact that my yoko hasn't made much progress this week… orz
Out of the rest, there are a few new ones and some familiar faces. The first, I think needs no introduction…
Click on the pics to go to the Volks page for the figure. Fantastic colour pics have been uploaded today after making us stare at the grey prototypes for what feels like months! Details are still the same, She's an event exclusive 1/4 scale figure being sold at 2 events, Chara Hobby at the end of this month and Hobby Round 2 near the end of september for a pantwetting price of 50,050 yen!!! You could buy a limited edition character dollfie for that!!!!
Next up we have the next TRY-GK garage kit. And it's… Yoko, Again.
Admittedly, this one is a little special. She's a limited edition variant from her other Try-GK model based on the Kirameki yoko: Pieces of sweet StarS PV which was released a while back.
Not entirely sure which costume she's based on from the video. Looks more like a mashup of several, but I won't be chasing this up for 3 reasons. Firstly, I think I have enough Yoko GK. The kit gives off the same feeling as the song for me. Nice to listen to but it's not going to make me rush out and get it.
Secondly, When I say limited, I mean it!! Someone will need to check my translating, but I believe that to order her, you need to physically go to a volks showroom and register your interest!!! Not likely to happen for me.
Thirdly, I have a slight aversion to guitars in my kits ever since bunny haruhi. Especially when you have to put the strings on yourself!! Only 2 things have driven me to near the point of tears when building any kind of model kit. The first was the Perfect Grade Evangelion unit 1 (If you own 1, you know why!!!!) and the second was The guitar for my bunny haruhi. I would rather not have to go through that again!!!!
Next up is the kit which is vying for my attention with KOSMOS. This is the Schelptor from the Five star stories!
Admittedly, the Schelptor isn't one of my absolute favourite Mortar Heads from the Five Star Stories. Those would be the Knight of Gold Lachesis (which I already have and will probably do another variant in the future as it's my #1 fave), The LED Mirage (particularly the Babiron variant), Jagd Mirage and the Yen Xing Machine messiah.
Schelptor would be in the next rank, alongside the empress and Engage Octavier SR1. (confused? Gears Online have a nice collection of mortar head pics so you can check them out to find out what they all look like).
The kit is another Chara hobby exclusive, but at a less scary price of 20,000 yen. Currently, I'm deciding on either getting this and forgetting about KOSMOS, or abandon getting Schelptor and saving up for KOSMOS at the September event. What do the readers think I should do?
Hmm, Mecha vs Mecha-Girl…
Anyway, on with the remaining 2 kits, which are both from the King Of Fighters series of beat-em-ups. Both are characters which have been added to the home versions of the latest game, KOF XII.
First up, there's Elizabeth Blanctorche

She was first introduced in KOF XI and I can't say that I was particularly fond of her (or the game as a whole) but this kit isn't too bad. Doubt I'll get her tho.
The final kit is actually of one of my fave KOF character designs. Mature!!!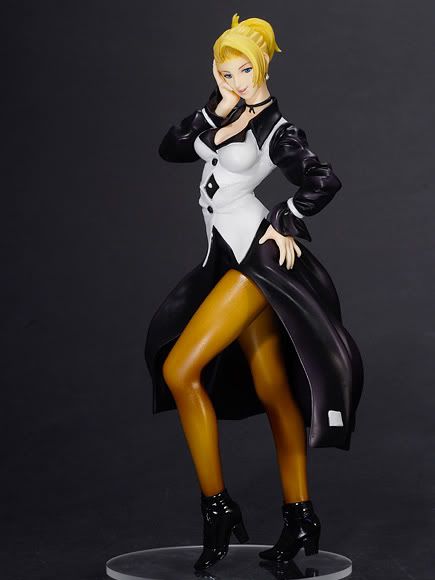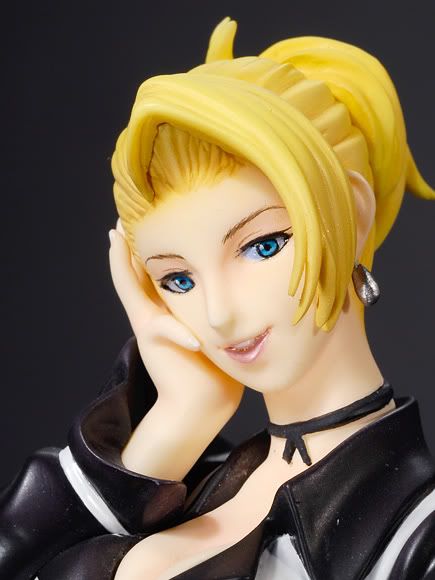 This kit is based off her KOF 2002 design, which is a good thing as she's only been in 4 games thus far, KOF 96,98, 2002 and Neowave. And the last 3 are "Dream matches" where all kind of characters get thrown in for no reason whatsoever and don't follow the KOF storyline!
In any case, it's much better than her XII design where she sports an eyepatch. I'm a little tempted by this number but I will probably pass due to lack of funds.
Both Ladies will be sold exclusively at Hobby round 2 along with KOSMOS at a price of 10,500 yen each.
Now that I look at it, a lot of these are exclusives…