And once again, I and this blog survive past another 12 months! To be fair, 2015 turned out to be relatively uneventful compared to previous years and even the minor personal dramas paled in comparison to what has come before. Then again, there are also times which help remind me that I have good connections to people all over the place and that's always great. In any case, lets take a look back at some of the stuff which appeared on our monitors over the past year with my top 5 shows!
Shirobako was a shoe-in from the start. It would have made it in last years list if it finished in 2014 but it was only halfway done so here it is. And it also gave us this…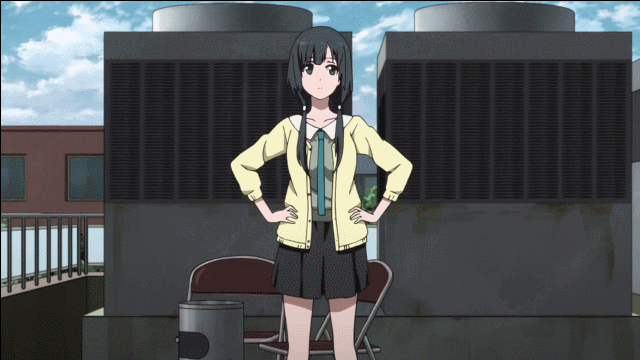 Plastic Memories was a simply story which was told well and sometimes, that's all you need. UBW was just amazing to watch in motion (even if it did completely mess up the schedule for the show succeeding it. Poor God Eater) and we all knew that 1-punch man was going to be great, we just didn't know how great!
And then there's Shimoseka. While not as great as Seitokai Yakuindomo, there's just something amazingly fun about shows which wears their pervertedness on their sleeves like these shows do. It's impossible not to at least smile when watching shimoseka, unless you're stuck up and take everything too seriously. It was a real shock to hear that Matsuki Miyu died this year. I was actually playing Tales of Zestiria when I heard the news and she voiced Laila in that game, but for me, her name will forever be attached to this character…
And now, onto the rest:
worst shows of 2015
Comet Lucifer – After a pretty good first ep, the show went downhill fast. And damn, that ending was soooo bad…
Gundam Reconguista in G – Tomino should never write another show again… EVER!!!
Rage of Bahamut Genesis – What a waste of space…
Seiken Tsukai no World Break – I wish I could take back the time I spent watching this show…
Tokyo Ghoul – Shouldn't be much of a surprise. The manga is a mess and so is the anime. A character driven story with no likeable characters!
High School DXD BorN – Oh man, I have no idea how they managed to screw up the series so bad considering the source material is solid!
Aoharu x Kikanju – It was a mistake to watch this show…
Gunslinger Stratos – Ugh… just Ugh!
Man, there were a lot of really big duds this year! And there's a massive pool of mediocrity as well. Come to think of it, I'm surprised I managed to pull out 5 faves from the pile!
Biggest Disapointment
Death Parade – A very interesting premise but marred by poor writing, especially with the "hell" episodes.
Aldnoah Zero – The curse of Code Geass/Guilty Crown strikes again. A good start but falls apart in the midway point
Triage X – This was down to Censorship.
Ranpo Kitan – I was really hoping for a good mystery show… I don't know what I got with this show.
Gatchaman Crowds insight – Some really cool ideas and social commentary hidden in the plot, but was hampered by very poor writing.
Yahari Ore no Seishun Love Comedy wa Machigatteiru. Zoku – Where did all the fun go?
Classroom Crisis – Started off good but fizzled.
Biggest Surprises
Ore, Twintail ni Narimasu
Nanatsu no Taizai
Yoru no Yatterman
Grisaia no Rakuen
The Rest
Glad to see Fafner finally make a return.
Man, Jojo stardust crusaders went on and on!! Still great tho!
I didn't really feel anything for Durrr this time around but they're still going on and making more!
Idolm@ster Cinderella Girls was nowhere near as good the original 789 pro, but still better than all the other pretenders.
Dog Days 3 was just… OK. Each series gets progressively worse so I kinda hope they stop soon before they just end up bad.
Same for Symphogear
Saenai Heroine no Sodatekata just didn't have much going for it. and it ended pretty abruptly too!
There were way too many Light Novel adaptations with plots and characters which could be easily swapped out with one another and I can't be arsed to list them all.
Isuca surprised me. Made me go back and read the manga again.
I really liked assassination classroom but I don't think I'll go and read the manga… Too long.
Junketsu no Maria was a really nice self contained show.
I still don't have a clue what YuriKuma Arashi was about.
Log Horizon 2 wasn't as good as season 1 but still worth a shot.
Really liked Overlord but I still feel that I've read titles that did it better.
Arslan Senki was a great remake.
Danmachi was fun but it didn't leave much of a mark
An absolute mess but a fun ride… Yep, that's Kekkai Sensen in a nutshell.
just WTF was going on in Punch Line?
Dragonball Z + nanoha = Nanoha ViviD!
Gotta love all the engrish in Hello! Kiniro Mosaic
Still not sure if I like Owari no Seraph or not…
Nisekoi 2 is everything you'd expect.
Ore Monogatari And the disappearance of Nagato Yuki was decent fillers but not particularly amazing on their own.
Monster Musume and Himouto Umaru-Chan are very much flavours of the season but they may still have a long tail… Also, Rachne and Cetora are the best girls, no question!
Sore ga Seiyuu was fun but not a patch on Shrobako
I really want to read Rokka no Yuusha after watching the anime!
Charlotte was made by the same team that made Angel Beats and it shows. Charlotte had all the same failings.
I think that's everything on the anime side… As far as movies go, working close to a cinema helps a bunch so I did actually end up watching a few more movies than I otherwise would not. Fast & furious 7, Ant-man, Spectre, Force awakens to name a few… Jurassic World was stupid fun and was much better than the 2 sequels and Mad Max: Fury Road was excellent in its simplicity. But my Absolute favourite film which I saw this year was Kingsman. Sure it wasn't the best film, but I don't think I enjoyed any other as much as I did that one, especially since Bond went all dark and angsty. It felt good to watch an old style spy flick. Maybe that was why I enjoyed the man from UNCLE too. Avengers: Age of Ultron may have been when my Marvel movie fatigue kicked in. It was entertaining as hell, but it lacked the "wow" factor I felt from the previous movies. A lot is riding on Cap'n Murica next year… I'm sure I saw more bit I honestly can't remember. I also went to the cinema to see the new Dragonball Z movie, friezas revenge. Not a bad film at all and a good callback to older DBZ.
And now, onto the games!
Best Game
Man, this was a tough one. I don't think this game was the one I spent the most time on (that honour probably goes to Xenoblade Chronicles X at 50hrs and still going) but this was the game I kept coming back to. I'd play for a weekend and then leave it for a while but I'd always come back for more and it would be just as fun as I left it. And I'm sure I'll go back to it again when I get back to my Wii U!
Honourable mentions
I very nearly put Onechanbara Z2 Chaos as my top game of the year. It's very rough but stupidly good fun.
The Order 1888 had a bunch of good ideas and fun weapons but there wasn't enough of it to lift it above average…
I never thought I'd enjoy Hyperdimension Neptunia U as much as I did. Hell, I even platinum'd the game!
Tales of Zestiria was decent but has some major issues and bugs. How the hell does a boss character just randomly shrug off an attack string like it suddenly got impenetrable armour?
rocket league was a surprise hit with me, as much as it was for many others!
Batman: Arkham Knight felt like a good time to end the series. It hadn't jumped the shark yet but it was getting close.
I need to go back to Final Fantasy: Type 0 and finish it, but even though it's a PS4 game it's PSP basics show in every part of the design.
Toukiden Kiwami was only the 3rd MonHun game I really enjoyed after God Eater and Freedom Wars. Man, I can't WAIT for God Eater 2! I'll prob pick up resurrection too.
Transformers Devastation was a mostly enjoyable romp but was a far cry from the usual high standards from Platinum games. I just hope working multiple games doesn't adversely affect their output too badly.
Transformers Devastation was a decent Transformers game but was a considerable mark down from the usual  quality of Platinum games.
I finally jumped on the Destiny Bandwagon.
Ditto with Shovel knight!
Xenoblade Chronicles X isn't as tightly made as its predecessor and has some major trappings but if it made me sink 50+hrs with lots more to go, you know it's doing something right!
Also grabbed HyperDevotion Noire so I now have the game starring the best goddess!
Another deception game? I'll take it, even if it is just an expansion.
Still, even with this list, the year was amazing for gaming purely with the announcements and kickstarters. This year was purely down to sony and Nintendo. Both had missed and delayed games but Ninty still gave us Splatoon and Xenoblade Chronicles X. Their Nintendo Direct reveals of Cloud and Bayonetta for Smash were major points which brought the hype! But if you want hype, it was definitely down to Sony and their E3 conference. It says a lot when microsoft gave a really solid conference and nobody remembers it simply due to the announcements from Sony! You almost feel bad for the big M.
In 2015, we got a spiritual sequel to Castlevania: Symphony of the night, another for Valkyrie Profile, Confirmation of Shenmue 3 and a freaking FINAL FANTASY 7 REMAKE!!  You just need to watch the reaction videos on Youtube from the FF7 announcement. And that's not even counting stuff like the Capcom Cup Finals, with amazing moments like Daigo vs Infiltration. AND to top all them off, A Resident Evil 2 Remake. A full Remake of the best game in the damn series (yeah, you heard me RE4 fanboys). No remixing, no over-the-shoulder viewpoint. Just classic RE remade again. That might have actually been more exciting for me than FF7 remake. If Capcom announced it at E3, I would have lost my shit!!… even more than I did.
2015 was pretty much Sonys year but much of it were promises, so now they need to deliver. But if they do, 2016 will pretty much be theirs too!
And that's pretty much it for 2015. An uneventful year but that's not necessarily a bad thing. Thanks to Q, Simbo and the FCG guys, Mr.E, Firei, Dblanks, T101UK and the others for all their help this year! The figures Retrospective will be done later, at the time of the blogs anniversary but otherwise, thanks to everyone for visiting and あけましておめでとうございます