I just realised that there has been very little in figure news on this blog for some time. Partially because there's nothing of note to report and also, although I have had a few purchases arrive, they don't really strike me as review-worthy. Maybe I will re-evaluate soon but for now, let's go with another game review.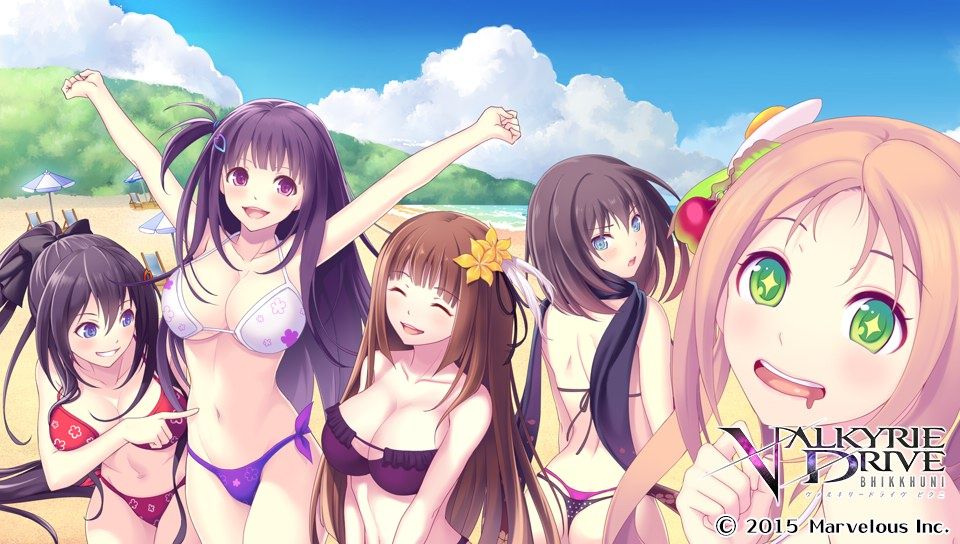 Now, Valkyrie Drive: Bikkhuni is from the same mind that brought us Senran Kagura and it is fully aware of what it is and what is expected of it. Having said that, the whole game lacks the tongue-in-cheek atmosphere of the Senran games and feels more "serious", at least in terms of story. And by that I mean injecting seriousness in a mass of fanservice, Kinda like how Oshii Mamoru forcibly injects philosphy and religious stuff into his animes, even if it's a detriment to the movie itself (GitS2: Innocence Anyone?).
*ahem* but in any case, this game never goes too far off that end. The game was designed in conjunction with an anime series set in the same world called Valkyrie Drive: Mermaid. (in fact, the 2 lead characters in the anime are DLC for this game!). The premise goes something like… *deep breath* a virus has infected a number of girls in the world and those infected are shipped off to specially created islands as some sort of quarantine. The Virus has 1 of 2 effects, a girl can either transform into a powerful weapon if aroused or the girl can be capable of welding said weapon after doing the arousing. Yep, that's basically it. The method is basically an excuse to get characters to pair up and for Yuri scenes.
Now, the game is a little different in that the characters you control are able to do both. They are both able to wield weapons or become one themselves. OK, I think I'm done. If you want more
*details*, check out the promotional video for the western release.
So, with that out of the way… this bit comes pretty easily. Basically, this game plays like a reskinned senran kagura. The combat is almost identical, save for a few minor changes which affect how you can raise your super bar and the like and the mission hub also works in almost exactly the same way. The major differences revolve around a special "affinity meter" which characters have with eachother and filling that up for the course of the game is how you can unlock more powerful attacks and transformations.
Speaking of which, the transformations are basically the Shinobi Tenshin from Senran Kagura. There are also moves to launch enemies and then chase them to continue a combo with a single button press as well and the stages follow the same structure of "beat up gangs of zakos -> move to new area -> repeat -> final battle 1v1 with named character."
Now, I'm not trying to knock the game but it pretty much tells you instantly if you'll enjoy it or not.
There really isn't that much more to say about the game. There's not even a real need to do the usual Like/Loathe list as it will basically be "do you like Senran? You'll like this! But the things you don't like are probably here too!" There are some drops in performance when the screen gets really busy and, oddly, framerate lowers during the intermission parts (tho it does remain constant). still, the game knows what it is and isn't afraid to flaunt it. There will be those who won't give the game a chance and judge it purely on the massive orbs on the chests of the characters but if you've liked any of the previous games from the creators, then you can walk in with eyes open and there will be no surprises.